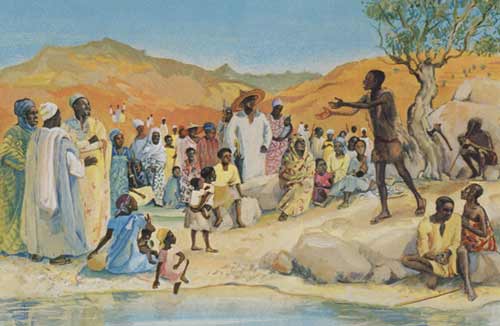 2 As it is written in the prophet Isaiah,
'See, I am sending my messenger ahead of you,
who will prepare your way;
3 the voice of one crying out in the wilderness:
"Prepare the way of the Lord,
make his paths straight" ',
Mark 1:2-3
1:2 Ὡς γέγραπται ἐν τοῖς προφήταις, Ἰδού, ἐγὼ ἀποστέλλω τὸν ἄγγελόν μου πρὸ προσώπου σου ὃς κατασκευάσει τὴν ὁδόν σου ἔμπροσθέν σου,
1:3 φωνὴ βοῶντος ἐν τῇ ἐρήμῳ· Ἑτοιμάσατε τὴν ὁδὸν κυρίου εὐθείας ποιεῖτε τὰς τρίβους αὐτοῦ
As it is written – used repeatedly in Mark (9:13; 14:21)
in the prophet Isaiah – actually, no; this is a combination of Hebrew Bible texts. So, some manuscripts correct Mark and have "prophets" instead of "prophet Isaiah".
I am going to send an angel in front of you, to guard you on the way and to bring you to the place that I have prepared.

Exodus 23:20
and
See, I am sending my messenger to prepare the way before me, and the Lord whom you seek will suddenly come to his temple. The messenger of the covenant in whom you delight—indeed, he is coming, says the Lord of hosts.
Malachi 3:1
 הִנְנִי שֹׁלֵחַ מַלְאָכִי וּפִנָּה־דֶרֶךְ לְפָנָי וּפִתְאֹם יָבוֹא אֶל־הֵיכָלוֹ הָאָדוֹן אֲשֶׁר־אַתֶּם מְבַקְשִׁים וּמַלְאַךְ הַבְּרִית אֲשֶׁר־אַתֶּם חֲפֵצִים הִנֵּה־בָא אָמַר יְהוָה צְבָאֽוֹת׃
ἰδοὺ ἐγὼ ἐξαποστέλλω τὸν ἄγγελόν μου καὶ ἐπιβλέψεται ὁδὸν πρὸ προσώπου μου καὶ ἐξαίφνης ἥξει εἰς τὸν ναὸν ἑαυτοῦ κύριος ὃν ὑμεῗς ζητεῗτε καὶ ὁ ἄγγελος τῆς διαθήκης ὃν ὑμεῗς θέλετε ἰδοὺ ἔρχεται λέγει κύριος παντοκράτωρ
Mark has "your way" rather than "the way" (found in both the Hebrew and in the LXX Septuagint Greek translation).
and
A voice cries out:
'In the wilderness prepare the way of the Lord,
make straight in the desert a highway for our God.

Isaiah 40:3
קוֹל קוֹרֵא בַּמִּדְבָּר פַּנּוּ דֶּרֶךְ יְהוָה יַשְּׁרוּ בָּעֲרָבָה מְסִלָּה לֵאלֹהֵֽינוּ׃
φωνὴ βοῶντος ἐν τῇ ἐρήμῳ· ἑτοιμάσατε τὴν ὁδὸν Κυρίου. εὐθείας ποιεῖτε τὰς τρίβους τοῦ Θεοῦ ἡμῶν. (LXX)
This is quite a change – from the original Hebrew Bible, "A voice cries out: 'In the wilderness…" to what we find in Mark: "the voice of one crying out in the wilderness…". Similar other changes can be observed.
As with verse 1, Mark (on purpose?), here, can be understood in a number of ways: the "voice" can be John the Baptizer; it can be Jesus, who cries out (ἐβόησεν cf βοῶντος) on the cross (Mark 15:34) making straight the way to God, Jesus who (in Mark 10:32) goes ahead of the disciples "on the way" (ἐν τῇ ὁδῷ) [NB Mark concludes with Jesus, after his death, "going ahead of you" (Mark 16:7); it can be the evangelist.
Malachi, with whom many in Mark's day were convinced that prophecy and inspiration had ended, would have a sudden appearance of the Lord in the temple. Mark stops his quoting before this, inserting, instead, an appearance "in the wilderness".
Reflecting on "wilderness" (count the number of times wilderness/desert ἔρημος appears in Mark – and its role in Mark) and "the way of the Lord" is part of reading Mark in slow motion – the central place of the wilderness, the desert, in the history of salvation; and the importance of the way, the Way, and "any who belonged to the Way"
As this year the Sunday Gospel reading focus is on St Mark's Gospel, I thought I'd now start some of my personal study and Lectio Divina with that Gospel.
This is the second post in a series – you can begin here:
Mark in Slow Motion 1

#SlowAdvent
Similar Posts: