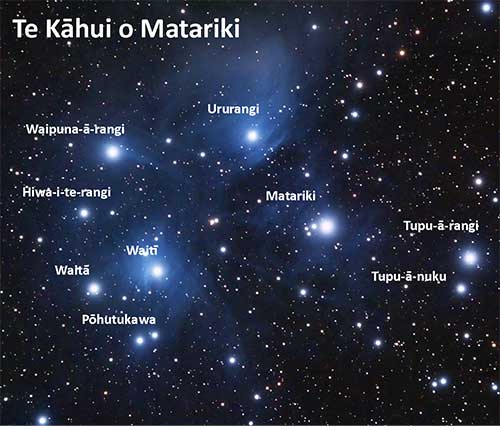 Matariki (also called Pleiades) is visible from most of the planet for most of the year. In Aotearoa New Zealand, there is a period when it is not visible. When it reappears, low on the horizon at dawn, that is Māori New Year.
The Māori Maramataka (calendar) follows lunar months (marama means both Moon and lunar month). Like Jews and Muslims, the Māori month is from New Moon to New Moon – a period of 29½ days. Months can be simply counted: Te Tahi (the first), Te Rua (the second),… This means there are mostly 12 lunar months until the New Year, Matariki. Occasionally, there are thirteen.
With some tribal variations, months had names:
Pipiri (May–June). All things on earth are contracted because of the cold; likewise man.
Hongonui (or Hōngongoi, June–July). Man is now extremely cold and kindles fires before which he basks.
Here-turi-kōkā (July–August). The scorching effect of fire is seen on the knees of man.
Mahuru (August–September). The earth has now acquired warmth, as have vegetation and trees.
Whiringa-ā-nuku (September–October). The earth has now become quite warm.
Whiringa-ā-rangi (October–November). It has now become summer, and the sun has acquired strength.
Hakihea (November–December). Birds are now sitting in their nests.
Kohi-tātea (December–January). Fruits are now ripe, and man eats of the new food of the season.
Hui-tanguru (January–February). The foot of Rūhī (a summer star) now rests upon the earth.
Poutū-te-rangi (February–March). The crops are now harvested.
Paenga-whāwhā (March–April). All straw is now stacked at the borders of the plantations.
Haratua (April–May). Crops are now stored in pits. The tasks of man are finished.
from Paul Meredith, 'Maramataka – the lunar calendar', Te Ara – the Encyclopedia of New Zealand
There had been a transliteration of the English calendar names (eg. Hānuere for January; Mei for May). Since 1990, there has been a revival of the above traditional names but linking them to the English calendar system rather than retaining lunar months (eg. Pipiri is June).
Connecting the traditional lunar Maramataka to the Jewish, Biblical, lunar calendar could be an interesting exercise.
Previously, one might have pointed to seven stars of Matariki. My image above shows the now more common 9 stars including Pōhutukawa and Hiwa-i-te-rangi.
Matariki Nurturing, signifying our connection to our environment.
Pōhutukawa Representing those who have passed on.
Waitī Support, symbolising our ties to fresh water and the food within.
Waitā Support, symbolising our ties to the ocean and the food within.
Waipuna-ā-rangi Kindness, appreciation of the rainfall/water.
Tupuānuku Friendship, appreciation of food grown within the soil/plants.
Tupuārangi Sharing and an appreciation of food grown from trees.
Ururangi Wind, speed and positivity.
Hiwa-i-te-rangi The youngest star, considered the wishing star for future hopes and desires
From Everything you need to know about Matariki
Many (most?) contemporary Kiwis, and probably many (most?) urbanised, westernised people have little connection to nature and the changes in our sky. Many (most?) could not name what phase of the Moon we are in, how the Moon waxes and wanes, or point out the planets (and stars) in our night sky. I was recently in a wonderful shop selling all sorts of quality posters, etc. I spotted a lovely poster of the phases of the Moon as a sort of permanent lunar calendar. However, I also quickly spotted it was a Northern Hemisphere poster – the Moon waxed and waned in the wrong direction. It bore no connection to our Southern Hemisphere context. The person working there was completely nonplussed and could not work out how I had spotted its Northern Hemisphere origin (which the small print confirmed). This person had never paid attention to the waxing and waning of the Moon happening 12-13 times each year of their life…
Ideas and resources for Matariki
There are great phone apps (eg SkyView) that help you orientate yourself with the night sky as you point the camera towards different areas; this is a good online version.
I do not think we have really been deeply inculturating Christian spirituality into the Southern Hemisphere.
Matariki is a time for remembering the dead, and celebrating new life. It is often marked by kites, hot-air balloons, and fireworks.
Liturgical celebrations of Matariki clearly will use te reo Māori. Solstice threads can be incorporated, as well as traditions drawn from the biblical new year, Rosh Hashanah (Leviticus 23:24) including the blowing of the horn (or possibly appropriately the conch shell).
Some obvious hymns are:
Whakaria mai /How Great Thou Art
E te Atua —Alleluia Aotearoa 31
Where mountains rise to open skies — Alleluia Aotearoa 155
God of all time, all seasons of our living — Alleluia Aotearoa 49
Children's activities can include making stars, kites,… Click here for ideas from the Rainbow Room Children at St Andrew's on The Terrace.
During Matariki, we celebrate our unique place in the world. We give respect to the whenua on which we live, and admiration to our mother earth, Papatūānuku.

Throughout Matariki, we learn about those who came before us. Our history, our family, our bones.

Matariki signals growth. It's a time of change. It's a time to prepare, and a time of action. During Matariki, we acknowledge what we have and what we have to give.

Matariki celebrates the diversity of life. It's a celebration of culture, language, spirit and people.

Matariki is our Aotearoa Pacific New Year. (Māori Language Commission)
Pope Francis is the first pope born in the Southern Hemisphere. It is a good time to be claiming and creating Southern Hemisphere ways of doing things.
What do you do for Matariki? What ideas do you have for it? How can we connect this with church celebrations? With home celebrations? With other contexts?
Similar Posts: