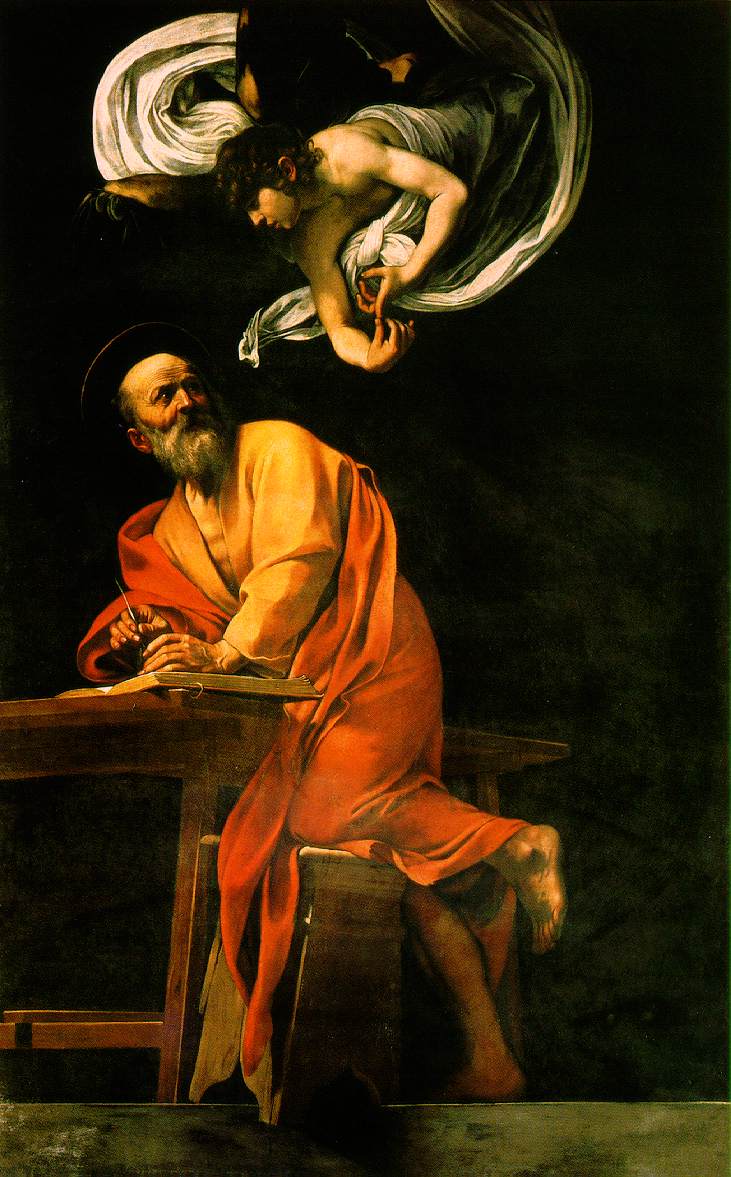 As this year the Sunday Gospel reading focus is on St Matthew's Gospel, I thought I'd start some of my personal study and Lectio Divina with that Gospel. [NB. I am using 'Matthew' as a convenient term for the author of the first Gospel in the order of the Christian canon].
1:1 Βίβλος γενέσεως Ἰησοῦ Χριστοῦ, υἱοῦ Δαβὶδ, υἱοῦ Ἀβραάμ
Βίβλος – the book
γενέσεως – root: γένεσις genesis – that's a pretty obvious connection of this book with the first book of the Bible. Translated as "genealogy".
The order of the scrolls in the Hebrew Bible varied, but often ends with Chronicles. [Christians separate the two scrolls of Chronicles into two 'books']. Chronicles, of course, has a strong focus on genealogies. Matthew picks up with a genealogy – carrying on, then, as it were, from the 'close' of the Hebrew Scriptures.
υἱοῦ – Translated as "son of" – but clear, that υἱοῦ does not mean "son of" in our English sense. This point will become important further on in this chapter. One might, better, translate υἱοῦ as "descendent". Note: Jacob's adopting Ephraim and Manasseh as "sons" (Genesis 48:5).
Most of us are used to living in a Guilt Culture "in which the primary method of social control is the inculcation of feelings of guilt for behaviors that the individual believes to be undesirable." Jesus, and Matthew, and the hearers (and readers) of Matthew's Gospel lived in a Mediterranean honour-shame culture, "a society in which the primary device for gaining control over children and maintaining social order is the inculcation of shame and the complementary threat of ostracism." In this honour-shame culture there are two kinds of honour: ascribed honour and achieved honour. Ascribed honour is the value given to a person in public based on one's family, bloodline, and heritage. A genealogy is a way of presenting ascribed honour in the honour-shame culture of the text.
I intend to continue from verse 2.
*****
Whether you regard the Christmas Season as concluding on Christmas Day, Epiphany, the Baptism of the Lord, Candlemas, the Sunday following Candlemas, or are Orthodox, or Armenian, and celebrate the Incarnation on another day and see the season differently… in the Southern Hemisphere, and certainly in Aotearoa-New Zealand, this is our go-slow time…
If you appreciated this post, do remember to like the liturgy facebook page, use the RSS feed, and signing up for a not-very-often email, …
Similar Posts: