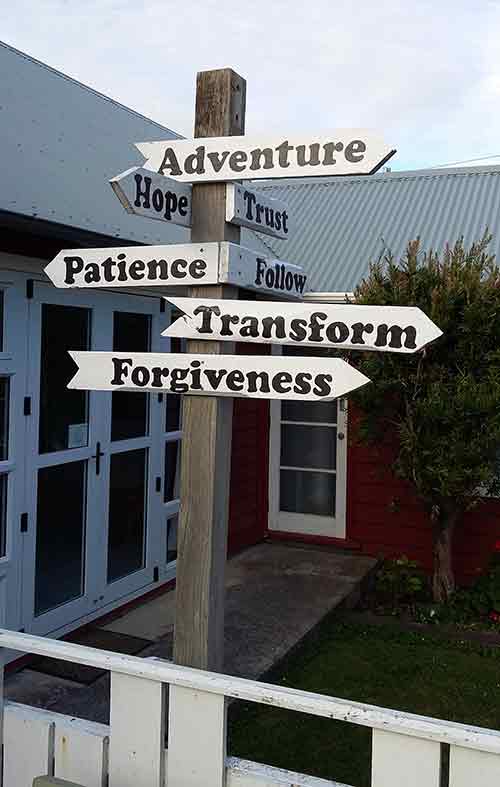 I strongly advocate for all ages and all stages to, as much as possible, gather around God's table [See, for example, my chapter Children at the Eucharist in my book Celebrating Eucharist]. On holiday, I happened to go to church at St Andrew's, Plimmerton, which had a way (I have not seen before) of helping pre-reading children to focus during the Eucharistic Prayer.
Firstly, some other positives about this church:
A website which actually had the service times easy to find. And the times were correct.
A welcoming community when I did walk in (no – I wasn't recognised; they would have greeted anyone this way)
Clear signs on the church building also indicating the correct information
A large sign on the door "This church is open each day for prayer and quiet reflection"  [and the building was open daily]
A very good use of the projector system which did not give the feeling that we were addressing a screen rather than God, the leader, each other
A way of running the service which did not feel like we were moving between the real-and-relaxed parts of the service and changing gears to the "formal"/"fixed"/"required" parts of the service – it all felt like a single, connected whole.
Early in the service, the children had gone out to an adjoining space for their own Liturgy of the Word. When they came back in, the young children went and squatted in front of the altar. Each received a (plastic ice-cream) container with six laminated images. During the Eucharistic Prayer, the presiding priest, Rev. Pete Watson, would hold up an image at the appropriate point (in a low-key way), and each child would find that card in her/his hand and put it through the slot on the lid into his/her container.
There were six cards: offertory; bread; wine; Holy Spirit (epiclesis); Lord's Prayer; breaking of the bread. Older children helped the littlest ones. All happened quietly and reverently.
Talking with Pete afterwards (yes – he knows I'm blogging about this & is comfortable about that), he suggested six cards is not enough (they have only just begun the practice) – I can imagine adding creation/nature for in the Preface; Holy, Holy, Holy;and others… I'm sure that, in your own context, you'll be able to think of ways of adapting this great practice. [I immediately thought – it worked fine in the relaxed context of St Andrew's, but, elsewhere, someone other than the presider might simply hold up the appropriate card if children need this guidance]. And, if you would like to discuss this with Pete, he's agreed that people contact him.
If you appreciated this post, consider liking the liturgy facebook page, using the RSS feed, and/or signing up for a not-very-often email, …
Similar Posts: