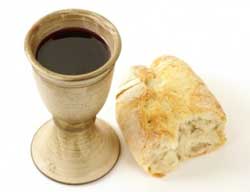 Eucharist (Greek εὐχαριστία – thanksgiving) is never used in the New Testament as a name for the Christian service with bread and wine.
The earliest record of this service does use the associated verb:
For I received from the Lord what I also handed on to you, that the Lord Jesus on the night when he was betrayed took a loaf of bread, and when he had given thanks (εὐχαριστήσας; eucharistesas), he broke it and said, 'This is my body that is for you. Do this in remembrance of me.' (1 Corinthians 11:23-24)
In Matthew and Mark, Jesus blesses bread and gives thanks with a cup. In Luke, Jesus gives thanks with a cup, then bread, then a cup after supper.
The earliest times that we have records for Eucharist occurring as a title for this rite is in the Didache (9:1):
Περὶ δὲ τῆς εὐχαριστίας, οὕτως εὐχαριστήσατε… (Now concerning the Eucharist, give thanks this way…)
and by Ignatius of Antioch (who died between 98 and 117) in Eph 13:1; Philad 4; Smyrn 7:1; 8:1. and by Justin Martyr (writing between 147 and 167) Apology, 66.
The seven actions that framed the formal meal (taking, giving thanks, breaking, sharing bread; meal; taking, giving thanks, sharing wine) have, in the tradition with the removal of the meal, been conflated to four (taking, giving thanks with bread and wine, breaking bread, sharing bread and wine).
"Eucharist" focuses on one of those four (seven) actions. Each title for the service focuses on an aspect.
We continue to observe that the lesser-used terms in the New Testament ("Eucharist" never being used as a title there) are the more common titles today.
Previous titles in this series
Similar Posts: