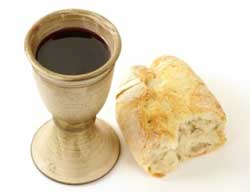 The words "Holy Communion" never occur in the New Testament! Like the title "Lord's Supper", "communion" (κοινωνία), is not regularly connected to the Christian service with bread and wine in the New Testament. The connection appears only once.
Communion, κοινωνία, is normally translated "fellowship". NRSV, in 1 Cor 10:16-17, translates it as "sharing":
16 The cup of blessing that we bless, is it not a sharing in the blood of Christ? The bread that we break, is it not a sharing in the body of Christ?
17 Because there is one bread, we who are many are one body, for we all partake of the one bread.
Using the word "communion" focuses on the act of receiving the elements, and on the elements themselves.
The Book of Common Prayer 1662 (350 years celebration this year) titles the service "The order of the administration of the Lord's Supper, or Holy Communion" a title it has had there since the 1552 Prayer Book.
It is notable that titles commonly used now are the ones little used in the New Testament.
Similar Posts: