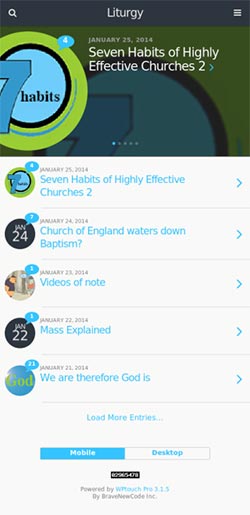 Occasionally I glance at statistics of this site, and recently I spotted a change in the default way that google presents statistics. It now first gives what sort of devices are being used.
I was fascinated that about half of people viewing this site are doing so using a mobile, tablet, or iPad. So I went back to look at a year ago. Then it was about a quarter.
Statistics like this, for the internet generally, are unclear – but what is clear is that the use of mobile access to the web, and tablets and iPads, is increasing. Rapidly.
I have long had this site able to be viewed on mobiles in a simplified manner. And my intention is to improve navigation for tablets, iPads, etc. by, for example, removing drop-down menus and organising that hierarchy differently. This is called having responsive web design – trying to to "provide an optimal viewing experience – easy reading and navigation with a minimum of resizing, panning, and scrolling — across a wide range of devices (from mobile phones to desktop computer monitors)".
If your website, your church website, diocesan website, etc. is not using responsive web design, you are stuck in a last-millennium paradigm. If your site is not being accessed by people using mobiles, tablets, and iPads, then you have a serious issue with the demographic that your site is limited to.
I have been advocating using WordPress as the foundation for your site for over five years. It is simple and free. This site uses  Headway, a drag and drop WordPress theme and I find that very flexible. To make the site mobile-friendly merely requires using WPTouch, a WordPress plugin.
You can check what a site looks like on a mobile on this mobile emulator.
Similar Posts: