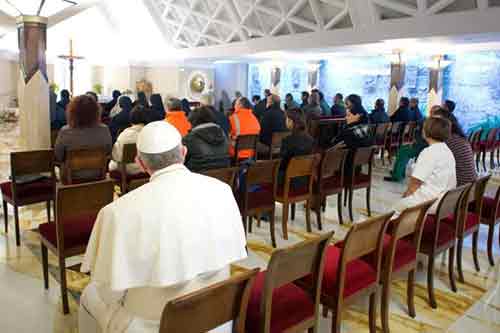 The shocked reaction, by some, to the above photo, is to assure people that it is photoshopped. You can, they tell us, notice by a crease on the pope's leg, and by the shiny triangle… etc. etc.
Yes, Pope Francis' style is a bit different. The photo isn't photoshopped.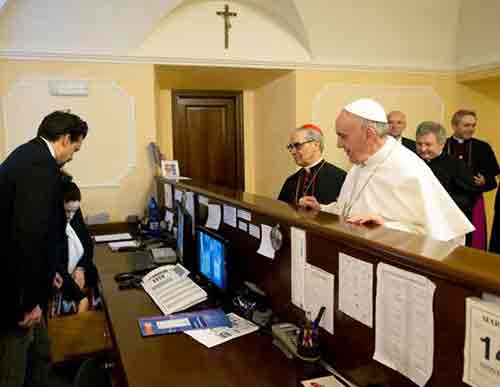 Here are two images for people who enjoy playing "spot the difference":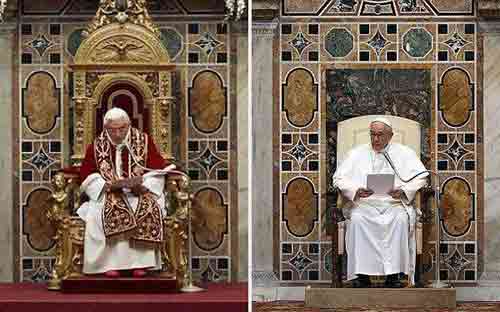 Within two days of the pope being elected a significant Roman Catholic blog (at the conservative end of the spectrum) was already asking its readers to give their first impressions from 1-10 (10 "I thrilled and hugging everyone in sight"; 1 "I'm a chimp throwing feces"). 840 (9%) already voted "1". The pope's ministry hadn't even been inaugurated yet! [Is one allowed to wonder about inaugurating such a poll, so early, about the one understood to be Christ's Vicar?]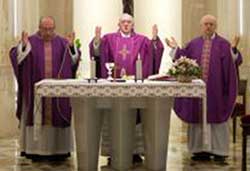 Speaking Italian, off the cuff, emphasising being Bishop of Rome, still living in Domus Sanctae Marthae rather than having moved into the papal apartment… there is discomfort at his not wearing a mozzetta, and noting of his not wearing a mitre…
There are some rumours. Some of these rumours are obviously weak (alienation from the Society of Jesus, as just one weak example, would hardly lead one to give the Jesuit monogram primary position on one's crest).
I actually like the little touches. The Pope greeting people after presiding at Mass in the parish church of St Anne; Pope Francis visiting Pope-emeritus Benedict XVI, walking into the chapel (from 0:44 below), noticing the single kneeler prepared for him and then having the fraternal tussle to have them pray alongside each other; "we are brothers".
[For some, even Pope Benedict XVI does not get it right in not having the icon covered in the video above!]
All that does not detract from what lies ahead of Pope Francis to deal with. There is a reason why Pope Benedict XVI resigned, and may Pope Francis be able to bring strength and wisdom to those tasks. Those, however, who have been hanging out for a significant shift in doctrine or even discipline, may not find this papacy satisfying them.
For those who want to explore further, here is an article on Pope Francis, Liturgist and another on Pope Francis' Liturgical Revolution. [The central, seventh candle, always there with Pope Benedict XVI, and copied by bishops around the world, is missing]
The Vatican has shown itself to be living in the third millennium. The inaugural Mass was streamed live on the internet, with and without English commentary. And is now able to be watched in full on YouTube. The service text was available on the internet with translation. The sermon was online very quickly. Pope Francis has started tweeting.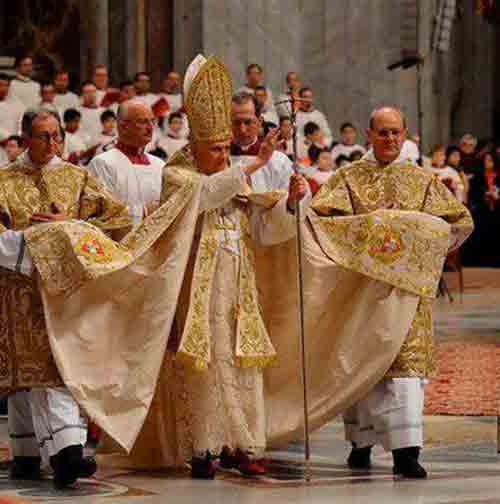 The Anglican Communion has also inaugurated a new leader. There are some similarities between the two new leaders. A lighter, more down-to-earth touch. Justin Welby went for a jog on the morning of his enthronement, a teenage girl welcomed him into the cathedral, he blogs (in a web 1.0 sort of way)…
He, too, has real issues facing his leadership skills.
I am far less impressed by the Anglican understanding of the significance of the digital in this third millennium.
This is what greets anyone, outside of the UK, wanting to watch the Archbishop of Canterbury's enthronement: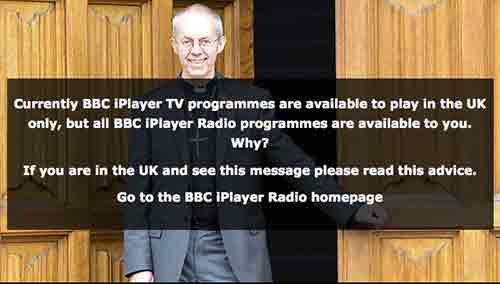 Yes, 36 minutes of highlights is available online – but go and watch it now before the BBC has it taken down.
Thirdly, there is the announcement that Bishop Philip Richardson, Bishop in Taranaki, will become one of the three Archbishops leading the Anglican Church of Aotearoa, New Zealand and Polynesia. He will will succeed Archbishop David Moxon, who is heading to Rome to become the Anglican Communion's chief ambassador to the Roman Catholic Church. Bishop Philip will be installed as Archbishop in May, at a time and a place to be confirmed.
Our prayers are with Pope Francis, Archbishop Justin, and Archbishop-elect Philip.
ps. We discussed why Roman Catholics used white during Lent for the papal celebrations and established there is a proper For the Pope – "with the colour white". It would be interesting to hear a deeper Anglican discussion about the liturgical colour used at the Archbishop of Canterbury's enthronement. Similarly, were the NZ Anglicans on Saturday in red because they were celebrating a Votive Mass of the Holy Spirit?
pps. I would also like to hear a deeper Anglican reflection on why the Archbishop of Canterbury has two cathedras. IMO being enthroned on the seat of Saint Augustine should be all that is needed – making him the ordinary of the diocese of Canterbury and thereby the Primate of All England, etc.
If you appreciated this post, there are different ways to keep in touch with the community around this website: like the facebook page, follow twitter, use the RSS feed,…
Similar Posts: