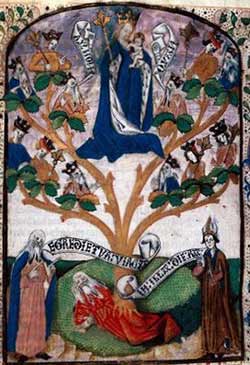 Someone recently referred to the use of the O Antiphons in the past tense ("these were used…"). Well, yes, they were. But they still are being used. I use one of the O Antiphons each evening, praying it before and after the Magnificat.
The most-used shared daily reading of the scriptures is the daily eucharistic lectionary. From 17-24 December it is linked to the dates, not to the days of the week. And each set of readings has its own Gospel Acclamation, the Gradual Alleluia Tract.
On 17 December this is:
Alleluia, alleluia!
Root of Jesse, set up as a sign to the peoples,
come to save us,
and delay no more.
Alleluia!
On 18 December this is:
Alleluia, alleluia!
Ruler of the House of Israel,
who gave the law to Moses on Sinai,
come and save us with outstretched arm.
Alleluia!
So even those who do not pray the evening office encounter the image in each O Antiphon day by day as they celebrate daily Eucharist.
Join this slowing these last days of Advent by reflecting on and praying:
O Radix Jesse – O Root of Jesse – December 19
O Clavis David – O Key of David – December 20
Similar Posts: