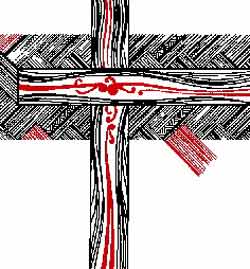 Dear leaders of the Anglican Church in Aotearoa, New Zealand and Polynesia,*
This is an open letter to you in response to decisions made at the recent meeting of General Synod Te Hinota Whanui with regard to blessing committed same-sex couples.
In the light of tabling the A Way Forward report and not progressing its suggestions, justice and integrity require that it is time, I think, to be seen to treat the majority in the same manner as the minority.
The debate about blessing committed same-sex couples has occupied a considerable amount of our church's time and energy. It seems to me that there has also been a qualitative difference in our treatment of the minority (LGBT relationships) as compared to the scant amount concerned with parallel discussions about the vast majority (heterosexual ones). There appears to be a slanting favouring heterosexuals that is not evident for homosexuals.
In the course of discussing blessing committed same-sex couples, I discovered that clergy may have been marrying divorced people without fundamental authorisation and without consistency with our Church of England Empowering Act of 1928.
Motion 30 of the meeting of General Synod Te Hinota Whanui 2014, and the Introduction in the A Way Forward report, it seems to me, are quite correct in stating that our church's doctrine of marriage holds it to be between a man and a woman, life-long, and monogamous. We have, however, for about half a century, in conflict with our doctrine, had clergy officiating at weddings of heterosexual couples where one or both are divorced – they have previously entered such a "life-long and monogamous" marriage.
It is possible that we may be able to change our doctrine of marriage (from "life-long" to "intended to be life-long", for example). My understanding is that such a change of doctrine requires a change to our formularies by the "twice round" process agreed to under the Church of England Empowering Act 1928. As far as I know, our church has not done this. The only thing the church has (to marry divorcees) is a clause in a canon, passed by a simple majority at one sitting of General Synod. This, as you know, is not the appropriate, agreed process to change doctrine. The clause is without foundation and inconsistent with the Act.
If I am correct in these points, then, it seems to me that, for the sake of justice and the integrity of our church and its leadership, if we agree it is God's will to allow the marriage of divorcees, we must embark on trying to change the teachings of our church on marriage by our own agreed process. We need to be seen to treat moral issues for the majority (heterosexuals) with the same seriousness as our church has been treating moral issues for the minority (homosexuals).
There may be flow-on effects (in terms of licensing and, concomitantly, livelihood) of the realisation that our church has not begun the appropriate process to allow divorcees to be married in our church. A learned commission might be established to think through the implications.
My own position is to see God wherever I find love and caring, and to point to and facilitate ways that this might flourish. I believe that the structures we create should demonstrate understanding of the complexity of the human condition we find ourselves in and respond with justice and compassion. I am disturbed that our church makes the celebration of committed same-sex couples such an all-consuming controversy while comparatively scant energy has been expended on the parallel points for opposite-sex couples. I wonder about the dynamics at work underneath the debates, that we as a church seem to have issues with a small minority (who often appear objectified as "them") while we appear not to have really paused to equally apply the same arguments to the majority ("us"). I wonder why this issue, rather than other pressing issues in our contemporary world, occupies so much of our church's energy.
I look forward to responses to this letter. I will regard all responses as being public.
Yours in Christ,
Rev. Bosco Peters
*This letter has been sent to the General Secretary of our church with the request that it be forwarded to members of General Synod Standing Committee. If you are a leader in this church – this letter is also to you.
*****
This is the second post in response to the recent meeting of General Synod Te Hinota Whanui; the first is: Anglicans Abandon Common Prayer and Allow Blessing Same-Sex Couples.
If you appreciated this post, remember to like the liturgy facebook page, use the RSS feed, and sign up for a not-very-often email, …
Similar Posts: