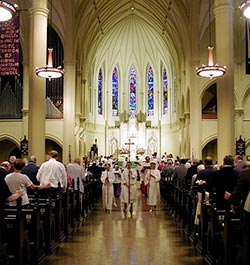 I want to think a bit more about processions.
Too often they appear to degenerate to little more than a church catwalk where people show off their liturgical wearable art. Don't they?
If that's what they are – I certainly don't want to play.
Let's start at the end. Let's start at the procession leaving the worship space. There is an increasing tendency, it seems to me, for this to be experienced as those who led the service (within the worship space) to be leading those who have gathered out into the service beyond the worship space…
So we are all processing out – those leading lead this processing out. Increasingly I find the deacon dismissing all at the West door. The people turn as the cross goes past, finally with the congregation facing West, the deacon dismisses all to go out and love and serve.
Alternatively, the deacon dismisses in the sanctuary – those leading then process out, and the rest of the congregation follows. This is the last action. There is no, "Oh but before we go we are going to sing yet another hymn…" or have the liturgy of the notices, or whatever…
What do you do?
What could one do?
What does one do in places where there is the tradition of a voluntary after the service?
Anything else?
Similar Posts: