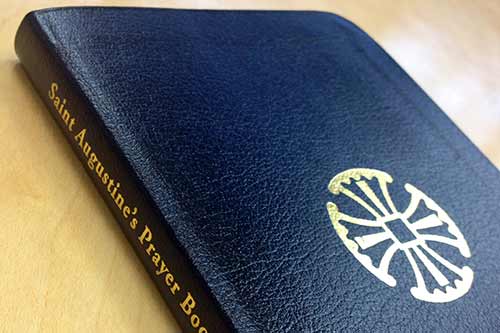 Saint Augustine's Prayer Book
Newly Revised Edition
Prepared by Forward Movement on behalf of The Order of the Holy Cross
Format: Leatherbound
Pages: 492
Saint Augustine's Prayer Book [Kindle Edition]

Editor: Rev. David Cobb
Liturgical Editor: Derek Olsen
Here is a devotional treasury I highly recommend.
Small enough to carry with you in your jacket, glove-box, or handbag, nearly 500 pages are presented with thin but helpfully opaque pages, in a clearly legible font with good white space.
This is a complete revision of a well-loved classic. The original, edited by Fr. Loren Gavitt, was published in 1947 by the Order of the Holy Cross, an Anglican monastic order founded in 1884 in New York. The order has had a long, fruitful partnership with the Roman Catholic Camaldolese. The 1947 book complemented BCP 1928 (TEC) for lay and ordained. It was revised in 1967 – from my reading the revision did not find the enthusiasm that the original held. This latest revision is clearly conscious of the disappointments with the 1967 revision.
Derek Olson, Liturgical Editor, writes:
this new revision was designed from the ground up as a solid catholic supplement to our current [TEC BCP 1979] prayer book, reflecting the ecumenical and cultural situation of our day. Additionally, this revision intentionally draws from the wells of historic devotion incorporating more materials from Sarum primers and breviaries. In keeping with both aims—a closer connection with the current prayer book as well as recovering the riches of former ages—we have tried to give as many attributions as possible laying bare the historical span of the material.
We, in NZ, do not have the equivalent of Rite I in our contemporary prayer book, so "thee" and "thou" prayers look unusual in a contemporary prayer book as are found in the revised Saint Augustine's Prayer Book. A small number of the prayers here are a little too "sweet" for me personally, and I tend to assume inclusive and expansive language as a given for contemporary resources. But, remember, this is not a book of newly-written prayers, it collects both old and new, and I can easily skip or adapt-as-I-go material in this book. The editors are clearly conscious of these points:
our goal was to use the whole register of liturgical language with the intention of not making language an issue. There was no quota of Rite I to Rite II to gender-neutral material. Instead, we went with what prayed well!

…there's a certain flavor of saccharine-sweet overly-pious immediately pre-concialiar sentimentality that is greatly toned down. To my Gen-X/Y ears, this material strays dangerously close to the line of self-parody. It's one thing if your heart is genuinely overflowing with love and devotion; it's another to insist that's how you're feeling and, if not, to whip yourself up to that level because the prayer says you should—that just doesn't strike me as honest spirituality!
This book does not just present a collection of prayers, there are also solid introductions to our Christian life and its obligations. These are worth re-reading regularly. There are resources for daily prayer, confession, the Eucharist, the church year (with, for example, Stations of the Cross and Stations of the Resurrection), and various devotions and litanies. It is very easy to find your way around the book, there is an excellent index, and there are two ribbons.
Many people present The Episcopal Church as a seething hotbed of heresy and perennially seeking controversy. My experience online and in real life is, rather, of thoughtful orthodoxy with solid liturgical disciplines of spirituality enabling real engagement with our contemporary context. This revised Saint Augustine's Prayer Book stands strongly in that understanding. I am grateful to the editors and to my friends in the Forward Movement for this gift to me and to the church.
Postscript: with the Canterbury cross on the front, one might be forgiven for thinking the "St Augustine" is of Canterbury, but, although I so far have failed to find this referenced in the volume, apparently "This is a devotional manual that is dedicated to St. Augustine of Hippo, who is the patron saint of the Order of the Holy Cross." [From a webpage on the previous edition].
In the comments, do add your experience with earlier editions of Saint Augustine's Prayer Book, and your thoughts about this revised book.
Similar Posts: