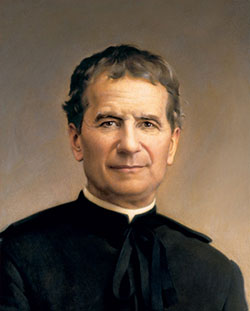 Giovanni Bosco lived in Turin, Italy. He was mostly known as Don ("Father") Bosco. Today (31 January) is his feast day. I am honoured to bear his name.
His feast day is celebrated at least by Roman Catholics and Anglicans (Church of England, The Episcopal Church, Celebrating Eucharist).
Don Bosco was a priest in nineteenth century northern Italy. He was imaginative in the way that he gathered people for God and worked to improve their lot. He had a special focus on young people. He was ahead of his time in focusing on love rather than punishment in formation and education of the young.
He gathered others around him who shared his vision. Central to that was the development of a religious order, the "Salesians", one of the largest if not the largest religious order in the world. As well as education and formation of young people they work in publishing and communication.
I have been to Turin a couple of times. Don Bosco's legacy there takes up about four city blocks. I have encountered his influence from India to central Africa where, again and again, I met people who were named Bosco.
A psychologist might have a field day that my primary ministry, for fifteen years now, has been with young people; I have a strong interest in laterally thinking about ways to draw people to God; and a passion for communication.
Compassionate God,
you called Juan Bosco to be a teacher and father to the young:
Fill us with love like his,
that we may give ourselves completely to your service and to the salvation of all;
through your Son Jesus Christ,
who lives and reigns with you and the Holy Spirit,
one God, for ever and ever. Amen.
[Collect from Holy Women Holy Men, The Episcopal Church]
If you appreciated this post, there are different ways to keep in touch with the community around this website: like the facebook page, follow twitter, use the RSS feed,…
Similar Posts: