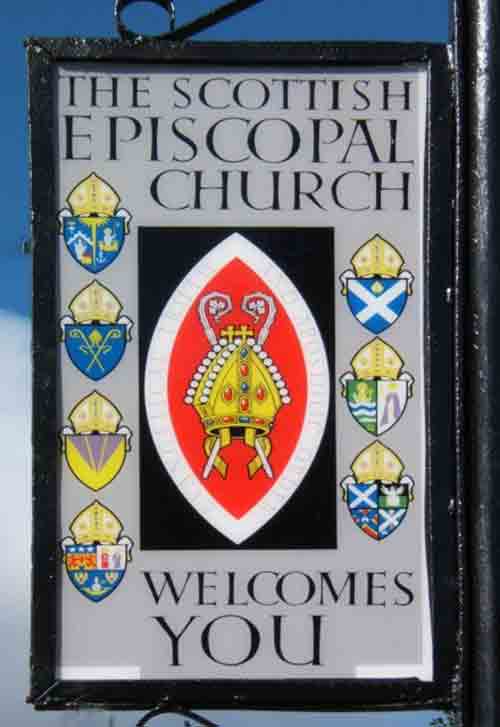 Anglicanism regularly phrases things in such a way that different positions, different opinions, different practices can be held together in the one church.
The Scottish Episcopal Church (Anglicanism in Scotland) has begun the process to allow marriage equality in that church. It has done so by beginning the process to remove "of one man and one woman" from its requirement for marriage. The process is intended to be completed at General Synod 2017 and it currently looks like it has the 2/3 majority required in each of the three Houses to enable this. No person will be required to marry anyone – so those who in conscience cannot marry a same-sex couple will be free to follow their conscience. Those whose believe that marrying a same-sex couple is the right thing to do will also be free to do so.
This is a church following what I have also suggested – numbered 3 under "Further Notes on Blessing Committed Same-Sex Couples" in my post, General Synod 2016 & Liturgy. So this current post is, as it were, a footnote to my suggestion.
Our church already has that
2.11 Any minister shall have full discretion to decline to conduct any marriage service.
I have already pointed out that currently NZ Anglicanism's doctrine of marriage holds not only that it be between a man and a woman, but that it is life-long. For about half a century our canon (contrary to our doctrine) has appeared to allow clergy the discretion to waive the "life-long" requirement. But the possibility of discipline hangs over our head should we waive the "between a man and a woman" requirement.
I look forward to a formal response to my Open Letter to Anglican Leaders – Is Marriage After Divorce Possible? highlighting this difference. The letter is on the agenda of the July 23 meeting of the General Synod Standing Committee. I will note any response to the letter on this site.
There has also been discussion about my contention (that I highlighted both before and after the meeting of General Synod Te Hinota Whanui 2016) that the change to our Constitution, now in effect, allows bishops to authorise blessing committed same-sex couples at the request of a local community. I await receiving formal response to my contention.
I have expressed concern at the disproportionate energy that is being expended on this. I am conscious of the pain that it causes for LGBTI persons. I am conscious of the image of our church amongst those beyond it. A standard response from those opposed to marriage equality or even against blessings committed same-sex couples is that those in favour should stop pressing for it and then all will be fine. I quickly scanned back through this year's posts on this site and note that about 7% of the posts here include this topic. 93% of what is discussed here is putting energy into other things as well.
If you want to read further, you can do so here:
Episcopal Cafe – Scottish Episcopal Church votes for marriage equality
The Scottish Episcopal Church – Statement following the passing of Motion 14
The Guardian – Scottish Episcopal church leaps towards allowing gay marriage
What's in Kelvin's Head (blog) – Scottish Episcopalians Do It Together and On Being Threatened
If you appreciated this post, do remember to like the liturgy facebook page, use the RSS feed, and sign up for a not-very-often email, …
Similar Posts: