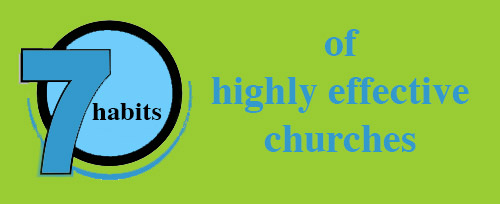 Habit 3 – Help others
I was recently part of a discussion about the famous quote
The Church is the only society that exists for the benefit of those who are not its members.*
It appears in different forms, and is variously attributed to William Temple and G.K. Chesterton.
The point is clear. And it is found in Jesus' understanding of his followers being salt, and light, and leaven. Salt enhances the good and limits the bad. Its purpose is not to turn everything into salt! The church may be a little flock but this little flock can hugely impact those it serves – just as salt, and light, and leaven affect.
Whom the church serves is, of course, unmeasurable, unquantifiable. Much easier to count bums on pews than quantify hands working out in the community. And it is, of course, inclusive – Christians working together in partnership with all people of good will.
Serving on a school board; volunteering; clearing a beach of pollutants; welcoming a household new to the neighbourhood; advocating for those unable to do so for themselves; sending goods and money to places of need… [add more examples in the comments…]
γὰρ ὁ υἱὸς τοῦ ἀνθρώπου οὐκ ἦλθεν διακονηθῆναι ἀλλὰ διακονῆσαι
the Son of Man came not to be served but to serve Mark 10:45
διακονέω diakoneo serve [often, menially]

ἐὰν ἐμοί τις διακονῇ ἐμοὶ ἀκολουθείτω καὶ ὅπου εἰμὶ ἐγὼ ἐκεῖ καὶ ὁ διάκονος ὁ ἐμὸς ἔσται ἐάν τις ἐμοὶ διακονῇ τιμήσει αὐτὸν ὁ πατήρ
Whoever serves me must follow me, and where I am, there will my servant be also. Whoever serves me, the Father will honour. John 12:26
Some, of course, bait and switch. The purpose of helping others, for them, is really to subliminally lure more into the religious club. More in-drag, than out-reach. They regularly want to alter the quote to have the church existing for the benefit of those who are not yet its members. And stressing their added "yet" is not mine but theirs.
Sad as I am that worship is not explicitly seen as part of the mission of the church in the five-fold mission statement, it has, however, very much the approach of this post, with at least three of the five marks being outwardly looking:
To respond to human need by loving service
To seek to transform unjust structures of society, to challenge violence of every kind and to pursue peace and reconciliation
To strive to safeguard the integrity of creation and sustain and renew the life of the earth
Often, this outwardly-focused, serving-others-beyond-church-walls approach is called "missional". But I notice that this word too is regularly being captured by the bum-numbers-on-pews counters as the latest good way to increase worship attendance (and presumably money on the collection plate).
What can you add about this third habit: helping others? Can you give some more, concrete examples…
*****
*This quote may very well be a simplification of a text from Church and Nation by William Temple, "Only in His own gift of Himself is it reasonable to expect that all men will find what they need; only in a Church which is the vehicle of this gift, and is known to be this, and not a mutual benefit society organised by its own members for their several and collective advantage—only in a Church expressive of Divine transcendence can all nations find a home."
The first habit is: Focus on God
The second habit is: Be Welcoming
Similar Posts: