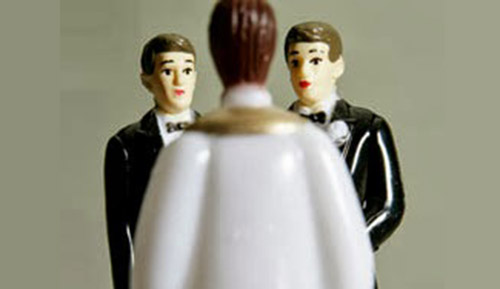 Theologians talk about the 'marks' of the Church. The 'mark' of the Anglican Church is… an obsession with sex. Same-sex to be clear and precise. We have been debating this decade upon decade upon decade.
The Very Revd Dr Jonathan Draper recently blogged about the obsession in a post Obsessed about sex?. Do read the whole post. Here is a taster:
My hunch is that the seemingly irreversible decline in church-going in this country – across all denominations – is a self-inflicted wound. We've clung on to passé ideas, refused new knowledge, hidden ourselves (and the Gospel) behind noise that creates more heat than light, and are now shocked and surprised to find that few people find us interesting anymore. Our moral authority went with the child abuse scandals; our intellectual authority went when we stopped taking scholarship seriously and put a kind of shallow Biblicism in its place.

It's not clear to me that this position is recoverable; the damage may already be too great. There aren't even that many deck chairs left to re-arrange. But perhaps this season of self-indulgent obsession with sex can be followed by a season of openness, learning and humility. We need to do what politicians find so difficult and admit we've got it wrong. We need to apologise for decades spent chasing our tails while opportunities for radical service and thoughtful listening were scattered around the hillside like sheep without a shepherd.
Let's put the Anglican obsession with talking about same-sex relationships into the proportionally-much-bigger context of heterosexual issues that appear to get no energy. I've already, and formally, shown that ethics in relation to heterosexuals gets little to no traction in our church (we still await a reply to my open letter formally presented by our church's General Secretary to General Synod Standing Committee, the Chancellors, and our Liturgical Commission).
We can look beyond divorce and remarriage of heterosexuals. In our country, TV is currently screening "Married At First Sight NZ". Couples who have never met marry on national television and then people watch what happens (I haven't so I cannot tell you what does). If overseas versions of the franchise have faked the wedding, NZ hasn't. These people are legally married. I've more than once challenged those who see Marriage Equality as debasing marriage that I haven't seen those usual suspects write about Married At First Sight doing so. [I have only ever seen a single allusion to the programme in one comment on another website]. Add to that: the TV advertising for the series (I have seen the advertising) used the image of a bride (white dress, white veil) running up towards St Stephen's Chapel, Auckland, a church the Anglican Church specifically built to sign our Church's constitution.
I hadn't given any thought to the marital status of our new Prime Minister until someone a couple of days ago pointed out to me that she isn't married. Again – I wonder if the usual suspects would have made more of that if this was not a straight couple.
Let's be specific about the disproportion. We, as a church, (on purpose) keep no national or Church-wide statistics, but the best estimate, from my diocese (the second largest in our Church, and our diocese does keep some statistics), is that we are debating blessing 4 same-sex couples a year. That's where a lot of our energy is going. At the start of next year, our diocese will call a special meeting of our synod. Guess what the focus will be about. Our declining numbers? How we might form contemplative communities as a response to the passion for positive psychology and mindfulness? An appreciative inquiry into how our church responds to the biggest move of people in our history because of the earthquakes? Child poverty and the growing gap between rich and poor? No. We will look at proposals for how, as a diocese, we might react to blessing 4 or so couples a year.
That was the dominating debate at the last meeting of General Synod Te Hinota Whanui, and you can bet your bottom dollar that it will be the main debate at the next meeting.
Is the way forward not to join the debate whatsoever? To give it no air at all? Tempting. But I was encouraged by others to work towards a response to the latest proposal – and I have been preparing for that with help from comments in a series on this site.
I had a quick look through the posts on this site this year. It's hard to categorise some but – approximately:
33% are about liturgy, prayer, and contemplation
31% are about faith in the contemporary, technological world
20% are resources and commentaries Sunday by Sunday (with a focus on the collect)
13% are working through Matthew's Gospel
and yes,
4% are about sex.
I'm not unhappy with that proportion.
If you appreciated this post, do remember to like the liturgy facebook page, use the RSS feed, and sign up for a not-very-often email, …
Similar Posts: