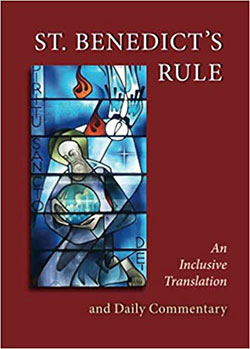 St. Benedict's Rule: An Inclusive Translation and Daily Commentary Paperback – May 7, 2021
by Judith Sutera OSB
Recently, I have been reading the daily section of the Rule (the Rule is regularly read through three times a year, and what section is read on what day is standardised amongst Benedictines) in this new translation. I follow by reading Sister Judith's reflection and then reflect on her insightful questions.
It is a smooth, accurate read (I have recently enjoyed Philip Freeman's translation of Benedict's Rule, and I found that flowed so that I read it as I would a novel, not in the short sections most would be used to).

UPDATE after second video below.
Sr Judith's translation is accurate, and the way she makes it inclusive is certainly not intrusive.

Many readers here will know of the reflections on the Rule by Sr Joan Chittister or the scholarly work of Fr Terrence Kardong. This new book is both a great place to start and, for those already on the Benedictine journey, a great way to deepen this journey. As I read this book and its reflections, my understanding that the monastic way has much to teach all of us is increased.

For someone who wants to pick up or grow in St Benedict's insights, I highly recommend this book.
UPDATE (12 August 2021):
Joseph Farnes pointed out that "Feb 16 – June 17 – Oct 17" is missing.
The section of the Rule read that day starts Ton page 110 at "The morning and evening office should assuredly…" The reflection and questions apply to Feb 16 – June 17 – Oct 17. So there is no reflection and there are no questions for the "actual" Feb 15 – June 16 – Oct 16 section.
Similar Posts: