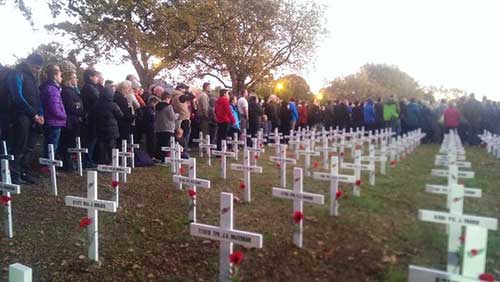 Yesterday I went to the ANZAC Dawn Service.
For those unfamiliar with this, ANZAC stands for Australian and New Zealand Army Corps. The ANZAC force landed at Gallipoli (Turkey) on 25 April 1915.
After the First World War, returned soldiers sought the comradeship they felt in those quiet, peaceful moments before dawn. With symbolic links to the dawn landing at Gallipoli, a dawn stand-to or dawn ceremony became a common form of Anzac Day remembrance during the 1920s.
By the 1970s, attendance and significance was dwindling – but from the 1980s, numbers have grown from strength to strength.
Thousands were gathered before dawn – every generation was well represented. Young parents brought toddlers in strollers or carried them; the elderly were accompanied by grandchildren. The service took about three-quarters of an hour. There was ceremony, speeches, hymns, three national anthems, prayers, the Lord's Prayer, and silence.
Some reflections – in no particular order:
The children, without exception, behaved impeccably. They picked up the sense of occasion and were present with dignity. Compare that with children in church services – if a parish is "lucky" enough to have any children present. They will be taken out for a significant time for a fun activity; there will be a play area specially set up within the worship space; there will be a soundproof room where they can be noisy;… The concept that the single event of worship is for all ages and all stages still struggles in many, many places. In some places adults worship; children learn. Yet go to a monastery, or marae, or an ANZAC Dawn Service and you see children fitting in with everyone else, all being there together because of the expectation and culture and the seriousness with which all is being done.
We are not a singing or a responding culture. The words were clearly visible on a large screen, but generally very few joined in with singing, saying the Lord's Prayer, or even repeating "We will remember them" as is the custom at the end of The Ode of Remembrance. Two things spring to mind: is this behind the growth of "spectator services"? Cathedral worship, where essentially everything is done by a choir and people up front, is one of the few signs of church growth in English culture. I want to hold to "participatory worship" where we all do everything together (led by individuals and a choir, sure), but maybe this is an area where church is counter-cultural.
There was no attempt to "update" – no rock band, no gimmicks, nothing done to attract crowds, or to make it more "relevant"…
What makes the people come? What makes the young families drag kids out of bed just after five in the morning, dress them, and drive to a place where they stand in the cold and dark? This sounds like a good topic for some research – I wouldn't be surprised if some had already been done. Sure, some churches have good and all-generation attendance, but I don't think most of these people here at the ANZAC Service are church-goers. What makes them come to this "churchy" event, but not to church? There is a connection made between the tragedy of the Gallipoli disaster and the birth of a sense of nationhood. Is this, then, a ritualised enactment of our national creation story? Is this an inchoate expression of a yearning for meaning, here? Are many of these people looking for what church could provide – but often we don't because we have lost confidence in our own tradition? Or we do provide it to our shrinking club, but we have lost confidence to let others know about it?
What thoughts spring to your mind?
If you appreciated this post, do remember to like the liturgy facebook page, use the RSS feed, and sign up for a not-very-often email, …
Similar Posts: