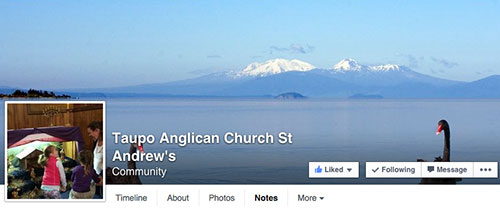 Does your parish or church use a facebook page as your primary means of communicating on the web?
UPDATED with links to parishes that solely use a facebook page as their presence on the web (see end of post).
I have wondered about encouraging people to use a facebook page as their parish website. Now I have found a parish that has started doing just that – and VERY successfully.
Regulars here know that I have rebuilt this website three times (using Dreamweaver, Rapidweaver, and now WordPress). I also started a Liturgy facebook page when facebook introduced them. The facebook page regularly takes me by surprise. I have had a post on the Liturgy facebook page viewed by a quarter of a million people! Normally, a post there can receive several thousand, and sometimes tens of thousands of views. All that is far more than the visits to this website which averages a couple of thousand visits a day. And so you can imagine I've wondered about the effort I put into this site, and whether to just blog on the facebook page instead of here.
Taupo Anglican Parish received zero to two visitors to their website a week. They decided to use the Taupo Anglican Church facebook page instead, and now can get a healthy 1,000 visitors to that page a week! They 'pin' service times and essential information as a post to the top so that it is always the first thing you meet. Sermons are under "notes". There are videos and photos.
Taupo parish has not left their original (poorly-visited) website sitting dormant on the web. The web addresses they own are: taupoanglican.org.nz and taupoanglican.nz. Both of those addresses redirect automatically to the facebook page. Try it. That is called a 301 redirect and is relatively easy to do.
Doing this 301 redirect has, I think, had a brilliant, and important side-effect. If you put "liturgy" into a search engine you quickly find this website, but the liturgy facebook page, facebook.com/liturgy, does not feature at all. I find the omission of facebook pages from search results very peculiar (but it is a relatively common issue). I think the 301 redirect from their websites is the main reason why a search for "Taupo Anglican" gets their facebook page as the top search hit. Again: try it.
Putting stuff on a facebook page and making changes is simple, fast, and effective. Facebook pages are totally public – the site is visible to those who haven't signed up to, or into facebook. If you want to spend more time, you can create custom tabs and personalise the page further. There can be a map. You can put information into the cover photo.
The only disadvantage I can think of is that if facebook radically changes the functioning of pages, then there will have to be a rethink by the parish. The advantage of having a website for liturgy (rather than just a facebook page) is that there is a lot of information of ongoing usefulness which can be searched. A parish site, however, just needs to be very simple – it needs to provide information such as service times, location, contact information, and show that this is a thriving parish you might want to visit or be part of. I think that a facebook page does this highly effectively. Congratulations, Vicar, Peter Minson, and Taupo Anglicans!
What do you think? And if your parish or church uses facebook as your primary presence on the web, let us know in the comments, including your page's URL. And don't forget to get your page to like the liturgy facebook page (when you manage a page, you can like, comment, etc, as either the page, or as you personally) – I'm presuming you have done that personally already 🙂
Parishes that solely use a facebook page as their presence on the web
Similar Posts: