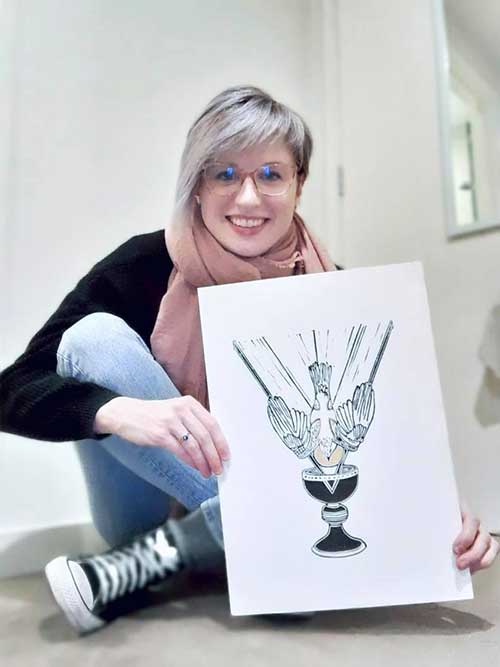 Rev. Sarah West, a friend of mine in Auckland, has, in this lockdown period as Aotearoa New Zealand battles the Delta Variant of Covid 19, decided that week by week she will produce linoprint art connected to the Sunday Gospel reading of the Revised Common Lectionary/(Roman Catholic) 3 Year Cycle. This is a wonderful new, fresh, contemporary resource – a gift to the church.
Here are the sites for her art:
Visio Lectio
Instagram
Facebook
I interviewed Sarah:
Tell us a little about yourself.
I am a priest in the Anglican Diocese, a mum to two intelligent and artistic kids, coming up ten years of marriage with my husband, Brent and own two large dogs. I'm an animal lover and have this year discovered just how much I love to make art!

Tell us about the ministry you have done and are doing now.
I'm a priest in the Anglican Diocese of Auckland serving as a chaplain to Young Adults. I mostly oversee a ministry called Ordinary Saints which is a community open to Anglicans in their 20s and 30s and embraces contemplative and sacramental rhythms – all with an 'ancient-future' flavour.
Before this, I was a curate at Holy Trinity Cathedral in Auckland.
What got you into these lino prints?
That's a unique story! I have always admired the linocut style of art and have a few big influences. However, I never considered producing linocuts until I was lying in bed one night after listening to a podcast. In the podcast, Jay Ruka (the author of Huia Come Home) had asked God, 'What do you think of me?' and the answer he received changed the trajectory of his life. I won't say anymore of his story (because it's not my own) but I asked God the same question that night in the dark. The answer I received (clear and immediate – very unusual for me) was 'You are an artist.' Honestly, I laughed. But as I have experienced many times before, God had the last laugh. A week later I picked up some black ink, a lino block and some cutting tools. Since then, I've been carving or printing almost every day in my spare time.  

How is this a contemplative practice for you?
Designing/drawing and carving are especially contemplative for me. This takes the longest time in the print-making process and is slow. When my hands are at work, my mind is still. It gives me a chance to pray, to be silent and to reflect. Often, when I'm carving in the evening, I practice the Examen. Other times, like a rosary, each carve becomes a prayerful phrase. I feel calm and clear-headed following a carve-session – a state that seems harder and harder to obtain these days.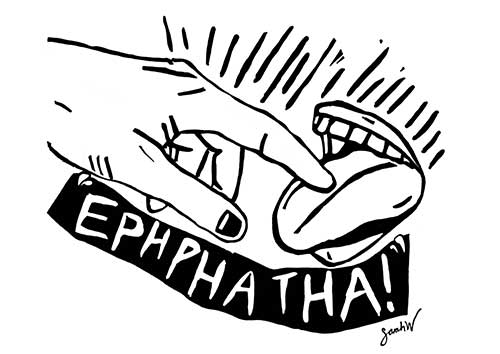 I used last Sunday's art in my lockdown sermon:
.
Similar Posts: