scripture readings
textweek resources
This is the Second Sunday of Easter (not the first Sunday after Easter)
It is also called Low Sunday, Divine Mercy Sunday, St. Thomas Sunday (especially among Eastern Christians) and Quasimodo Sunday.
Note, the first reading during the season is not from the First Testament as usual, but from the Acts of the Apostles. The Gospel reading this Sunday is the same every year: John 20:19-31.
Those baptised at the Easter Vigil would wear their white baptismal gowns until this day. Hence the Latin title for this Sunday is Dominica in Albis [Depositis] – "Sunday in [Setting Aside the] White Garments". In the East this is known as Thomas Sunday. Delightfully, East and West read the same Gospel reading on this Sunday, and furthermore, this year the Eastern and Western celebrations of Easter are identical. So Sunday May 1 East and West Christians proclaim John 20:19-31. Whilst in the West there is a focus on "Doubting Thomas", the East focuses more on Thomas' declaration "my Lord and my God". This week from Pascha to Thomas Sunday is called Bright Week (or Renewal Week). It is celebrated as one continuous day (similar to my advocating the whole 50 days of the Easter Season be regarded). During Bright Week the Royal Doors on the Iconostasis are kept open. Another title for this Sunday is Antipascha (meaning "in the place of Pascha"). Those who for good reason were unable to attend the Paschal Vigil, attend services on this day instead.
The text of the traditional Introit for this Sunday is drawn from 1 Peter 2:2 and begins "Quasi modo geniti infantes…" ("As if in this manner newborn infants…" In Victo Hugo's novel, The Hunchback of Notre Dame Quasimodo was found on the doorsteps of Notre Dame on this Sunday.
• collect/opening prayer reflection for Easter 2 May 1 and week following

• Easter Season
Attend the facebook event "Easter is 50 days" (invite others)
You can place this Easter badge on your site: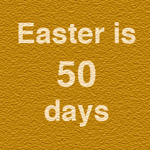 The HTML for this is:

The HTML for adding this badge to your blog or website is:

The HTML for adding this badge to your blog or website is:
Please do let me know if this is, or is not working – one little letter wrong in the coding and all falls apart 🙁
Exegesis of this Sunday's readings
From WaiapuAcademy.org
Collect from Common Worship (CofE)
Almighty Father,
you have given your only Son to die for our sins
and to rise again for our justification:
grant us so to put away the leaven of malice and wickedness
that we may always serve you
in pureness of living and truth;
through the merits of your Son Jesus Christ our Lord,
who is alive and reigns with you,
in the unity of the Holy Spirit,
one God, now and for ever.
This is from the 1549 BCP
ALMIGHTY father, whiche hast geven thy only sonne to dye for our sinnes, and to rise againe for oure justificacion; Graunte us so to putte awaye the leaven of malyce and wickednesse, that we maye alwaye serve thee in purenesse of living and trueth; through Jesus Christe oure Lorde.
At the second Communion on Easter Day, on the Tuisdaye in Easter weke, and The first Sondaie after Easter. Based on 1 Cor 5:6-8
Collect from BCP (TEC USA)
Almighty and everlasting God,
who in the Paschal mystery established the new covenant of reconciliation:
Grant that all who have been reborn into the fellowship of Christ's Body
may show forth in their lives what they profess by their faith;
through Jesus Christ our Lord, who lives and reigns with you
and the Holy Spirit, one God, for ever and ever. Amen.
Source: the Gregorian Sacramentary #423 – Friday of Easter Week (continued to be used for that proper through the Sarum Missal). Also Leonine Sacramentary #75; Gelasian Sacramentary #546 2nd sunday after the paschal octave; Supplement to the Gregorian Sacramentary #1117
Roman Catholic collect/opening prayer
Deus misericordiae sempiternae,
qui in ipso paschalis festi recursu
fidem sacratae tibi plebis accendis,
auge gratiam quam dedisti,
ut digna omnes intellegentia comprehendant,
quo lavacro abluti, quo spiritu regenerati,
quo sanguine sunt redempti.
From the Misale Gothicum, a Gallican sacramentary (c. 690-710)
O God of eternal mercy,
who on this recurrence of the paschal feast
do kindle the faith of a people sanctified for Yourself,
increase the grace which You have given,
so that all may comprehend with worthy understanding
by what laver they were washed,
by what Spirit they were regenerated,
by what Blood they were redeemed.
God of everlasting mercy,
each year when the feast of Easter returns you enliven the faith of your holy people. Increase in us the grace you have already bestowed,
that we may understand more fully in whose font we have been washed,
in whose Spirit we have been reborn,
and in whose blood we have found redemption.
We ask this through our Lord Jesus Christ, your Son,
who lives and reigns with you in the unity of the Holy Spirit,
God for ever and ever.
Please add hymns, prayers, ideas, resources in the comments.
Similar Posts: