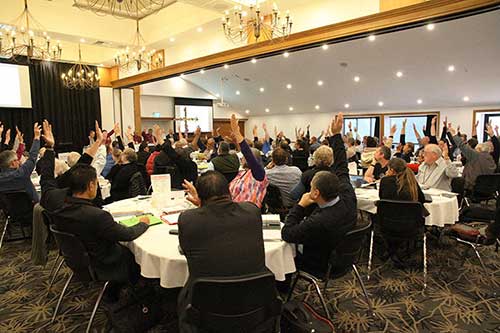 The 63rd General Synod Te Hīnota Whānui (GSTHW) met in the week of 4-11 May, 2018, in New Plymouth, New Zealand. Here are some brief reflections – particularly around discussions and decisions around worship and liturgy. The limitation to liturgy is not saying the other decisions are unimportant – quite the opposite. There is much that is more important than some of what is described here. A brief post on a liturgy blog would not do them justice.
If this NZ Anglican governance stuff doesn't spin your wheels – go out and look at some trees, have a coffee, hug a friend, and see you tomorrow…
I spearheaded the urging to our Church to put General Synod Te Hīnota Whānui papers online (reports, motions, bills). That is now, thankfully, the case. What is now needed IMO (and I thought it would naturally follow; and this is done overseas) is the amendments be online also, and whether they passed or did not. I presume amendments were not done by hand on paper at the GSTHW meeting but, rather. digitally – so this should not be arduous. Some people are asking, for example, what the amendments are.
This post in some sense complements my hopes expressed here.
Reports from Anglican Taonga can be found here.
Twitter hashtags for the meeting were #Hinota18 #GSTHW18
Peter Carrell, a member of GSTHW, blogs about it here and here.
I will update this post as more information becomes available.
I may have missed information already in public – some people forget that I run this website voluntarily in snatches of time caught often early in the morning.
An interesting start to #Hinota18 last night with the opening Eucharist using an unauthorised liturgy, especially given the weight some at this Synod place on Formularies.

— Rev. Chris Huriwai (@RevChrisHuriwai) May 5, 2018
An interesting discussion has ensued around this opening Eucharist. Some people love the fact that in New Zealand Anglicans can go beyond the agreed edges in worship without any fear of discipline. Others are concerned about the abandonment of any real sense of common prayer in our Church – we have the widest allowances anywhere in the Anglican Communion (everything can be made up or drawn from any source – except the Eucharistic Prayer, or the framework of the essential words in the Eucharistic Prayer, must be authorised somewhere in the Anglican Communion), and yet here, at the gathering of our highest level of governance, GSTHW, our leadership finds this width too restrictive. There are those, too, who see inconsistency: there are those who have lost their licence (and livelihood) because of breaking a Formulary (our agreements), while breaking the agreements in worship is even condoned at the highest level of our Church. Those against blessing committed same-sex couples (the focus of this meeting of GSTHW) have regularly argued that doing so is in breach of the formularies.
Motion 4 – lying on the table since GSTHW 2016 with a proposal for formularies to enable blessing committed same-sex couples was withdrawn – Motion 7 (often nicknamed "Motion 29"), below, is what was sustained at GSTHW18.
Motion 5 – (lying on the table since GSTHW 2016) that confirmation become a pastoral option called Affirmation and that it no longer be required for ordination was withdrawn.
The Anglican Taonga report is here.
Motion 6 Anglican-Methodist Relations inviting the Methodist Conference to consider how it might give more explicit expression to the personal and enduring nature of episcopal ministry, and commits to responding in an open and generous way to the Methodist Conference should they be able to give effect to such an expression of episcopal ministry. Passed.
Motion 7 Motion 29 WG Report The motion received the most recent report towards blessing committed same-sex couple and accepted its recommendations in principle. Amended. Passed.
Read about some of the debate about process here;
then some of the debate here and here.
The associated Bills have been amended – I do not know what the amendments are.
Three Christchurch diocesan reps to GSTHW resigned immediately after the vote. You can read more about that here.
The Bishop of Dunedin Called for calm over same-sex blessings
It has been reported that some bishops have clarified that ordination will now be open in their diocese to those in such a blessed relationship.
Reverend Helen Jacobi of St Matthew in the City
GAFCON and here.
Until persuaded otherwise, I continue to hold that leaving the blessing up to the consciences of the clergy and couple (as we do with marrying divorcees) would have been a simpler, better way forward. This has precipitated the concern by people that they will be in disagreement with their bishop. Also, reports that blessings will now be available everywhere in NZ are false. Blessings will only be available if your bishop has authorised such a rite.
I have been told that while the individual bishop will authorise a blessing rite, there has been no discussion about how: will the bishops agree amongst themselves on a rite that they will authorise individually? [Would that rite actually be the one presented in Motion 4 above?] Or will each individual bishop authorise different rites, episcopal unit by episcopal unit? Or will individual clergy invent rites and present them, ceremony by ceremony, to the bishop for authorisation? In the latter cases, what "quality control" is there to ensure that the "demarkation line" between marriage and committed same-sex couples (which some are so concerned about) is maintained?
All in all, as the rumblings for leaving the Anglican Church in Aotearoa, New Zealand and Polynesia seem to be beginning, one is left wondering if all the bending over backwards, and with "Christian Communities", and other time-energy-and-structural-alterations to attempt to keep those against committed same-sex couples within the church will have been worth it…
Peter Carrell said it well, and his wise words were reported in the secular media: "there will not be one canonical change which requires you to do anything differently to what you are currently doing or to believe anything differently to what you currently believe."
Motion 13 Title G Canon III of Marriage Review This motion moves beyond blessing committed same-sex couples to the possibility of marriage equality. For some, this would be too early. But, one might be surprised how close the vote already was: 29-31 against.
Bills 1, 2, & 3 withdrawn
Bill 8 confirming collect endings as a formulary – Withdrawn
Bill 6 was proposed as an alternative to Bill 8. Passed (does anyone know with or without amendments)
Bills 9 & 10 to confirm Te Reo Maori liturgical usages – Passed
Bill 11 expanding A Form for Ordering the Eucharist to be expanded to include any Eucharistic Prayer authorised anywhere in the Anglican Communion – I understand that was lost.
Bill 12 to begin the process to expand A Form for Ordering the Eucharist to allow any Eucharistic Prayer authorised by GSTHW – Passed
Bill 13 to begin the process to narrow An Alternative Form for Ordering the Eucharist to no longer allow any Eucharistic Prayer only authorised elsewhere in the Anglican Communion – Passed
#Hinota18 book launch of He Tonga Tongarewa: A history of a New Zealand Prayer Book He Karakia Mihinare o Aotearoa by Geoffrey M.R. Haworth. $20 + P+P from gensec@anglicanchurch.org.nz @Liturgy pic.twitter.com/GiBPa7Uplu

— Peter Carrell ن (@petercarrell) May 7, 2018
He Tonga Tongarewa: A history of a New Zealand Prayer Book He Karakia Mihinare o Aotearoa was launched at GSTHW. It is the result of two years work by Geoffrey Haworth. Unfortunately, errors in the printing meant that copies are not yet available. I look forward to reading it.
Report of the Common Life Liturgical Commission
Apologies for errors and ommissions. I have done my best. Any news or corrections – please just put this in the comments below, and I will update the post as I can.
If you appreciated this post, do remember to like the liturgy facebook page, use the RSS feed, and sign up for a not-very-often email, …
image source: Anglican Taonga
Similar Posts: