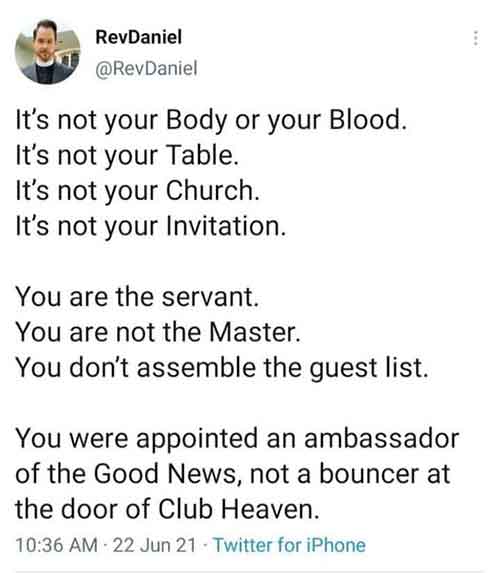 Sure, the above tweet was precipitated by the whirling debate on the internet whether the Roman Catholic bishops of USA were going to ban the only-the-second Roman Catholic President from Holy Communion, a man clearly with deep faith. We await the Bishops' document with interest (and might blog on it – depending its content). [There are obvious good discussions to be had about when does an ethical issue become so evil that a politician (or anyone with a particular role) cannot implement a decision no matter how high the majority vote for it. This post is not that discussion. There is also the further discussion about the sanctimonious inappropriateness for the church to be making any ethical edicts at the very time when its own moral bankruptcy on that very same continent is so publicly unmasked, and without it expressing appropriate remorse. Not that church numbers are to be a motivator, but you do not need to be a prophet or the child of a prophet to realise that all this will accelerate the Western tendency of diminishing church attendance. ]
But, whatever that ultimate document, I think the above tweet points to at least a couple of very important principles:
The presider at the Eucharist is not there as one to ban individuals from Christ's Table. [That being said, it has to be acknowledged that excommunication – literally, preventing someone from receiving communion – has been there from the very beginning].
A second point about the presider at the Eucharist not being the owner of the Eucharist but the servant means that the presider does not have the right to alter (pun!) the agreed rite. This is the church's celebration, not the presider's private act of piety. The presider may have personal preferences and proclivities – Christ's Table is not the place to inflict those on the church.
.
Similar Posts: