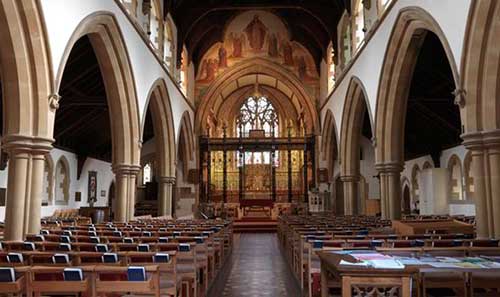 If we are to declare a positive reason for going to church, I think that the language we've used about ordination and Religious Life is the way we need to now speak of everyone's participation in Christian common worship.
In my travels (around NZ), I have ended up (often after much effort trying to get correct information for where and when a service is being held) at a Sunday service with a stipended (remunerated) priest (often the youngest person present) and a congregation numbering 30-50ish people, the vast majority aged over 60 years old, with, if they are lucky, a sprinkling of younger than 60. There might be a high amount of time and energy put into preparing a powerpoint of cloud liturgy and cut and paste worship, and the experience can feel like a religious poetry recital (sung and said Greek-chorus like).
Why are these people here?! Why do they keep coming back? This isn't some sort of rhetorical question – it would form a great doctoral study (do credit me if you do this – but someone had better get onto this quickly; these people are not going to be around a decade or two from now).
A large majority of these people grew up with the Book of Common Prayer (BCP 1662 and/or 1928). NZ Anglicanism jumped from being one of the most conservative liturgically to one of the most permissive. Communion services I've attended in NZ regularly have little to no verbal connection to the BCP rite (see, for example, here and here). That's clearly NOT why they are here.
Is it habit? Guilt? Fear of hell? Community? Fellowship? The sermon? Teaching? Receiving Communion? …
As I follow online encouragement of (essentially 'advertising' for) people to consider ordination (priesthood) or Religious Life (monk, nun, brother, sister,…), I am increasingly seeing that the language used in such promotion is the language we need to be using to encourage people to join the common prayer of our gathered Christian community – to come to church. Furthermore, if this is going to be the language we use, we must be sure that it is/becomes the reality in our gathered community!
Promotional material for ordination and Religious Life says things like: "Do you want to be part of a community following Jesus in prayer and service?" Do you desire to live a simple life with others, living justly, caring for the marginalised…
THAT is the sort of language that I think we need to expand beyond ordination and Religious Life to the reality for ALL Christians. And we need to assure that this is the reality that people encounter when they come to church. They need to find us as a deeply prayerful community (not just a group of people reciting – and singing – nice words to each other from a pretty powerpoint presentation). They need to find us as a community that also teaches prayer, meditation, contemplation, mindfulness, the Daily Office – encouraging fullness of life better than secular wellbeing movements. They need to find in us a community that individually and corporately cares for the planet, the poor, the sick, and suffering – that strives for justice and peace.
There is some possibly-tangential Anglican precedence for this. Cranmer's BCP aspired to having the whole of England being like a monastery, like Religious Life, like the life of good clergy. The BCP aspires, for example, to all, (not just clergy, monks, nuns, and friars), praying the Daily Office. Desert disciplines, honed in the monastic tradition, are available for all – our gathered communities of common prayer can not only be alive with the joy, meaning, vibrancy, and service that have often been associated with Religious Life and ordination – in a world wondering why meet, this can be a more positive way we can present ourselves.
Similar Posts: