Here is a list of resources for Advent. Please, in the comments, add good quality Advent resources, and especially links to online resources.
More on the Southern Cross Advent Wreath blessing
Devotions with an Advent Wreath
Advent service outline
Advent Songs of Praise
Advent penitence
Advent collects
Advent badges to put on your blog or website
Many people like, from time to time, to add a badge to their website or blog. If you like the idea – send your friends the URL of this blog post.
The HTML for adding the above badge to your blog or website is:
The HTML for adding this badge to your blog or website is: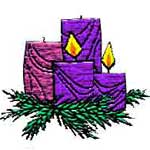 The HTML for adding this badge to your blog or website is:
The HTML for adding this badge to your blog or website is:
The HTML for adding this badge to your blog or website is:
If you appreciated this post, don't forget to click "like" on the Facebook Liturgy Page, (there is also an RSS feed)
Similar Posts: