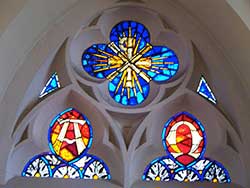 What does "I am the Alpha and the Omega" mean to you? In your daily life?
Alpha (α or Α) and Omega (ω or Ω) are the first and the last letters of the Greek alphabet. In the Book of Revelation 1:8 it says:
Ἐγώ εἰμι τὸ ἄλφα καὶ τὸ ὦ, λέγει κύριος ὁ θεός, ὁ ὢν καὶ ὁ ἦν καὶ ὁ ἐρχόμενος, ὁ παντοκράτωρ.
'I am the Alpha and the Omega', says the Lord God, who is and who was and who is to come, the Almighty.
'I am the Alpha and the Omega' is also found at Rev 21:6, and 22:13. It is interesting that in the Greek Alpha is written out in full (ἄλφα), Omega is not (ὦ). 21:6 and 22:13 is also followed by the clarification, "the beginning and the end". Some manuscripts add this into Rev 1:8 (see KJV). But this has little scholarly reliability – it is more likely that a scribe glossed 1:8, by addition as an explanation and to parallel the other occurrences, than that a scribe removed those words.
The occurrence in Rev 1:11 in some manuscripts (see KJV) again has weak textual reliability.
There is debate whether Alpha and Omega refers to God and/or Christ in the Revelation's texts.
Clement of Alexandria (153-217AD) associated the image with Christ in Stromata, IV, 25: "the Word is called the Alpha and the Omega, of whom alone the end becomes beginning, and ends again at the original beginning without any break."
In the devotional and iconographic (symbolic) Christian tradition the image is connected with Christ. And Alpha and Omega are often combined with the Cross or Chi Rho.
This image, then, connects with the understanding of Christ's divinity, pre-existence, and eternity.
Rev 1:8 is read Year B the Reign of Christ (Proper 29, Ordinary Sunday 34) and Year C the Second Sunday of Easter. Rev 21:6 is read every year New Year, Year B All Saints, and Year C the Fifth Sunday of Easter. Rev 22:13 is read Year C Easter the Seventh Sunday of Easter.
This post is the fourth in a series reflecting on Christian signs, symbols, and similar (Ichthus; Chi Rho; IHS).
If you appreciated this post, there are different ways to keep in touch with the community around this website: like the facebook page, follow twitter, use the RSS feed,…
Similar Posts: