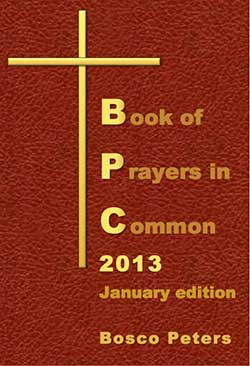 I am absolutely delighted to launch the first edition of my Book of Prayers in Common. If you are a regular at this Liturgy website you will have seen this being developed step by step. If you are one of the people who has helped with that preparation of this book – thank you.
You can download the Book of Prayers in Common by clicking the link:
You can also download it as an .epub file (This is for iPad and other mobile devices. I am not as happy yet with this – if you have the option, I would use the PDF above. It should work fine on most mobile devices.)
Book of Prayers in Common epub
The text of the book is also online on this site as a webpage. [Update: a Kindle version is now available also, on that page].
This book is an ongoing project, and you will find further additions and editions on this site as they are prepared. It would be great to have it at least translated into Te Reo Māori. If you are interested in assisting with that, please let me know.
Many of you know – I have been working on this for a long time – a treasure of prayers we share as Christians, collects reworked for our new context. It seems particularly appropriate to launch this in a week that in the Northern Hemisphere, at least, Christians are particularly praying for Christian Unity.
If you appreciated this post, there are different ways to keep in touch with the community around this website: like the facebook page, follow twitter, use the RSS feed,…
Similar Posts: