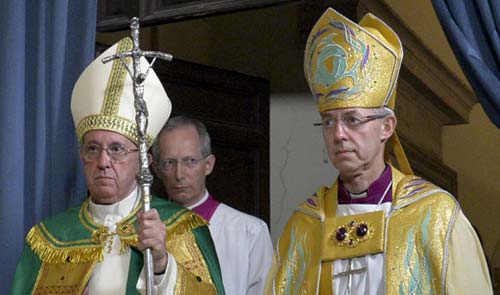 Anglican orders should not be written off by Roman Catholics as "invalid" stresses a new book by Cardinal Francesco Coccopalmerio, President of the Pontifical Council for Legislative Texts.
He calls into question Pope Leo XIII's 1896 papal bull that Anglican orders are "absolutely null and utterly void." There's already plenty of heat in response to the Cardinal, particularly from Roman Catholics who see the Cardinal as undermining papal teaching, even to denying and "dissolving" the sacrament of ordination. This website is one devoted to light over heat – if you want to have a heated debate about this, there's plenty of online sites that you can turn to.
The Cardinal refers to the Pope giving pectoral crosses, rings, or chalices to Anglican clergy. "What does it mean when Pope Paul VI gave a chalice to the Archbishop of Canterbury? If it was to celebrate the Lord's Supper, the Eucharist, it was meant to be done validly, no?" he explains. "This is stronger than the pectoral cross, because a chalice is used not just for drinking but for celebrating the Eucharist. With these gestures the Catholic Church already intuits, recognises a reality."
"When an ecclesial community, with its ordained ministry, in obedience to the Lord's command, celebrates the eucharist, the faithful are caught into the heavenly places, and there feed on Christ," he says.
I have previously pointed out another symbolic event. Roman Catholicism holds that only someone ordained may preach at Mass. The Archbishop of Canterbury, Rowan Williams, preached at a Roman Catholic Mass at Lourdes celebrating 150 years since the 1858 vision of the Blessed Virgin Mary to 14-year-old Bernadette Soubirous. My question was: in inviting the Archbishop of Canterbury to preach at such an internationally significant Roman Catholic Mass are they acknowledging that Archbishop Rowan Williams is validly ordained?
There is no doubting that Pope Leo XIII's 1896 papal bull had political dimensions. RCs were formally establishing an episcopate in England so that there were two sets of bishops – CofE and RC. Admitting CofE bishops were equivalent to RC bishops wouldn't have really worked at that particularly sensitive time would it…
Since that bull, Anglicans have come into full communion with Old Catholics, so that, with RCs accepting the validity of Old Catholics' ordinations, anyone holding to a "pipeline" theory of how valid ordination is passed on, even if there had been a severing of the pipeline in Anglicanism previously, then the pipeline would have been reconnected as, since 1930, Old Catholics have been fully involved in Anglican ordinations of bishops.
As for issues about the rite used, Vatican II changed the RC ordination rites (so much so that there are traditionalist Catholics who do not accept the validity of post-Vatican II RC orders). The form of Anglican and RC ordinations is now pretty much indistinguishable.
This has all been part of the significant progress made by the Anglican Roman Catholic International Commission in the areas of the Eucharist and ordained ministry.
There is the issue of ordaining women. I support the ordination of women, but I understand that there are those who do not. Even in the CofE there are those who see a bishop's acceptance of the ordination of women as meaning that such a bishop's understanding of ordination is so tainted that he (and it would be a "he" in such a case) cannot form the intention required to validly ordain. I think that stretches the requirement for right intention beyond orthodox sacramental theology. Intention is expressed by faithfully following the rite as agreed, not by the internal beliefs of the ordainer at the time of the service.
Which brings me to my final point. In Aotearoa, New Zealand and Polynesia, it is now a year since our General Synod Te Hinota Whanui (GSTHW) gave our Anglican bishops the right to individually authorise services for his or her episcopal unit – this year of waiting is required by our Constitution to allow anyone to protest this before a bishop can exercise this right. Prior to the GSTHW vote, I expressed my disagreement with this giving of jus liturgicum to our bishops (see Statute 711, also here, and elsewhere), and we must now live with the allowance. The bishops themselves appear to disagree about what right they now have. We know that prior to receiving of jus liturgicum, some bishops did not adhere to the agreed ordination rite. It seems that there is no unanimity whether a bishop can create an ordination rite or whether every bishop is still bound to follow the ordinal in A New Zealand Prayer Book He Karakia Mihinare o Aotearoa. If ecumenical consultation and negotiation around mutual recognition of orders (Anglicans already accept RC orders) were seriously a possibility between Rome and Canterbury (and New Plymouth), the variety of ordination practices would be a new layer of difficulties that I think could have been avoided.
In any case, I think it will be a while before we see such mutual recognition officially verbalised, even though, from the pope down, signs of such recognition are not uncommon, as the good Cardinal has so helpfully highlighted.
If you appreciated this post, do remember to like the liturgy facebook page, use the RSS feed, and signing up for a not-very-often email, …
Similar Posts: