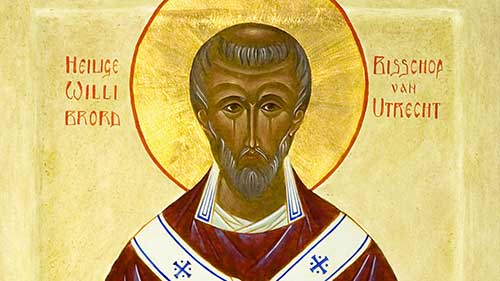 Yesterday was (here in NZ) and today, in much of the rest of the world (for those who believe the world is round!), is the feast of Saint Willibrord. Willibrord was an English Benedictine who became a missionary, known as the "Apostle to the Frisians", in the Netherlands.
He became the first Bishop of Utrecht – akin to the Dutch equivalent of the Archbishop of Canterbury [this position became the Archbishop of Utrecht in the sixteenth century].
Choosing the [Arch]Bishop of Utrecht was, as elsewhere, the responsibility of the local community. So, when the Reformation came, and the Catholic Church in the Netherlands had to meet "discreetly" (often in church buildings that, on the outside, looked like ordinary houses – the Dutch Protestant government being more generously inclusive than some) the community continued to elect and ordain its own bishops.
As in England, in the 1850s, come the government acceptance of Vatican-appointed Roman Catholic bishops, Utrecht now had two Archbishops, one locally elected, and one appointed by Rome. The former leads the "Old Catholics", a community expanded since the declaration of universal jurisdiction (effectively being the bishop of the whole church) and infallibility of the Bishop of Rome at Vatican I, when those who could not agree to this development sought a catholic church not accepting these developments.
Catholic-minded Anglicans will see obvious parallels with Anglicanism, and since 1930 the two communions have been in full communion. So, for those who hold to a "pipeline theory" of apostolic succession (rather than concern about the drip on the end!) and who fear that the Anglican pipeline broke somewhere along the way, Anglican orders can be seen to be valid as it would be nigh on impossible to find anyone ordained in Anglicanism who does not have the Old Catholic line in their ordination lineage.
Of parallel interest, I have only recently discovered the Hochkirchliche St. Johannes-Bruderschaft (SJB) (High Church Brotherhood of St John), a German High Church Lutheran religious society for men and women under the patronate of John the Apostle within the Hochkirchliche Vereinigung.
The aim of the confraternity is "the sacramental renewal of the Church, restorement of the apostolic succession in the Church and recovery of the unity of the christendom".

The Brotherhood is headed by Apostolischer Vorsteher, who is a bishop in apostolic succession. He is assisted by vicar apostolic, likewise bishop in apostolic succession. Brotherhood elects the vicar capitular and Apostolischer Vorsteher with more than 66.6% majority.

The Rule contains for example following:

Members have regular prayer life and preferably say daily office using a breviary Chorgebet (2009) and whenever possible, in common with others.
Priest members are committed to celebrate Eucharist every Sunday if possible and to take care that the eucharistic prayer contains also anamnesis and epiclesis after the rite Deutsche Messe (1926 renewed 2013).
Members go regularly to private confession and priest members work for reanimation of the practice of the private confession in their parishes.
Members of the Brotherhood follow fasting and abstinence rules of the western Church.
They work by prayer, words, and deeds for peace, justice, and probation of the creation, collaboration of peoples and races. Members take part in the work of ecumenical movement.

Hochkirchliche St.-Johannes-Bruderschaft
Read further:
St Willibrord and Old Catholics
Old Catholics

Similar Posts: