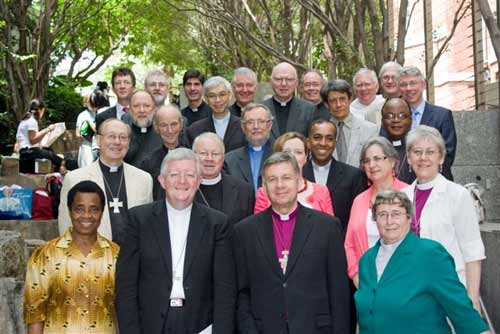 The Anglican-Roman Catholic International Commission has completed the second meeting of its new phase (ARCIC III) in Kowloon, Hong Kong (3-10 May 2012).
The Commission, chaired by the Most Revd David Moxon (Anglican Archbishop of the New Zealand Dioceses) and the Most Revd Bernard Longley (Roman Catholic Archbishop of Birmingham) comprises nineteen theologians from a wide range of backgrounds across the world. The Commission is addressing the Church as Communion, local and universal, and how in communion the local and universal Church come to discern right ethical teaching. The Commission is reviewing responses already received in order to prepare some elucidations, together with commentaries, which will enable the material of ARCIC II to be studied at all levels of the churches' life.
The Commission has developed a "schema" to address the interrelated ecclesiological and ethical questions under four headings: the identity and mission of the Church; the patterning of the Church's life that undergirds local and universal communion; shortcomings in the churches which obscure the glory of God; and ethical discernment and teaching. Members presented papers in each of these areas which were discussed both in plenary and in small groups.
To assist its own understanding, the Commission is preparing case studies in three ethical areas: matters which historically once seemed settled but which, upon reflection, have come to be viewed quite differently by both traditions.(slavery); issues on which Anglican and Roman Catholic teaching is at variance (divorce and remarriage, contraception); and evolving issues (a theology of work and the economy). It is not intended that the Commission will seek to resolve disputed ethical questions. Rather, its purpose is to analyze the means by which our two traditions have arrived at or are currently determining 'right ethical teaching'.
The Commission will prepare further papers, expand the case studies, and continue its work in preparation for its next meeting April 29–May 6, 2013.
Source, full text, and list of participants. H/t a correspondent.
Similar Posts: