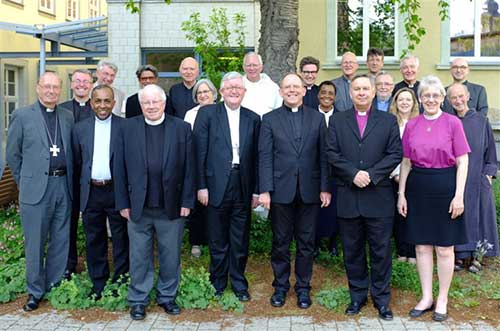 The main point of this post is to point out that the following document is now available: Walking Together on the Way Learning to Be the Church—Local, Regional, Universal. An Agreed Statement of the Third Anglican–Roman Catholic International Commission (ARCIC III) Erfurt 2017.
It is a 77 page document, and so will take some digesting. The document was made public on July 2.
It has been thirteen years since the Anglican-Roman Catholic International Commission (ARCIC) published a document. The approach of the document is how both churches/communions can learn from each other locally, regionally, and globally.
ARCIC will now move forward to the important work of looking at how issues of ethics are decided. And this understanding of the way authority functions, locally, regionally, and globally, is a significant part of this work.
This document is not an official pronouncement from either church or communion.
Here are some examples of the way we can usefully learn from each other. Roman Catholicism can learn from the way Anglicanism involves laity in governance and the fuller life of the church. The document highlights the possibility of married priests, and possibly of women ordained as deacons, and a growing appreciation of the value of the local bishops' conferences.
Anglicans, on the other hand, can learn from a more global perspective. Anglicans can become fixated on local autonomy. In Anglicanism, the teaching vocation of the episcopate can be lost in parliamentary proceedings.
The problems and issues within each church/communion may be helped by learning from the other.
ARCIC acknowledges that the ordination of women to the priesthood and episcopate, questions of human sexuality, and the creation of ordinariates have caused difficulties.
From page 24 onwards, there is a new and helpful format: ideas are presented in two columns side by side.
New Zealand has a particularly personal connection to this document. The co-chairs of ARCIC III are, for Roman Catholics, the Archbishop of Birmingham, Bernard Longley, and, for Anglicans, Archbishop David Moxon, a Kiwi, who last year ended his term as the Archbishop of Canterbury's Representative to the Holy See and Director of the Anglican Centre in Rome.
Do read the document and put any comments below.
H/T Fr Richard Peers
image source
Similar Posts: