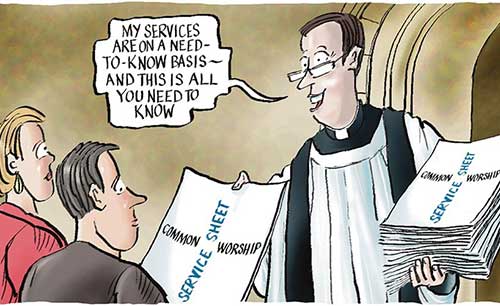 I was recently pointed to a helpful article by The Revd Philip Welsh, a retired priest in the diocese of London. The Church of England has moved from a single worship book (Book of Common Prayer; Alternative Service Book) to a shelf of books with, within each, a raft of options, templates, and patterns.
The article describes how, often, one arrives at a church service with not the slightest idea what one will encounter, and one is handed a newly-printed booklet (for that service and that service alone) of what lies ahead. And it's not much different here in New Zealand Anglicanism – only one is not limited by a shelf of authorised rites. Services from anywhere around the globe can be pressed into use – and if that isn't enough, people make up stuff locally – or as they go along. If you haven't been given a newly-printed service booklet, only when the slide is projected onto the screen do you know what you are about to pray, profess, or sing.
Rather than declaring at worship that life is about worship, this approach embodies the belief that life is basically about entertainment, and entertainment is about things constantly being different. In a world (and church) seeking to reuse, recycle, and reduce, this is a waste of trees. And it has moved all power from the community to the leader.
Changing words do, indeed, hold the attention of the worshipper, but what they hold attention to is not the object of our worship but the pamphlet in our hands. We are not so much taking our place in worship as finding our place on the page. There is little chance for words to become known by heart, and held as part of corporate memory: the words in which we worship have moved outside us. The irony is that the Preface to Common Worship eloquently voices this concern: "It is when the framework of worship is clear and familiar and the texts are known by heart that the poetry of praise and the passion of prayer can transcend the printed word." It would be a brave vicar who put that to the test…

It is as if the gains of the Reformation have been put into reverse. The 16th-century print revolution helped to drive the Reformation, as wider possession of prayer-books and Bibles underwrote a wider sense of ownership as church members. It seems that the 20th-century print revolution, with all the possibilities of desktop publishing, is in danger of turning it back.
Worship should be real – words intended to be addressed to each other (assembly to presider) should be addressed to each other, not to the booklet in our hands or the screen over to our right. That's being lost.
Worship is primarily action – not words. That's being lost.
Worship is a shared language – prayer books should be more descriptive than prescriptive. That's being lost.
And worship is common prayer. That's being lost.
Read the whole article.
What do you think?
If you appreciated this post, do remember to like the liturgy facebook page, use the RSS feed, and sign up for a not-very-often email, …
Similar Posts: