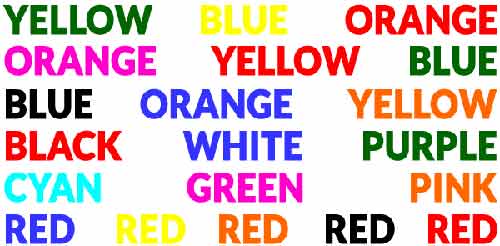 OK – How quickly can you say the colours of the words above, not reading the words, but the colour that the word is written in? Most of us struggle not to read a word that is placed in front of us. This is called the "Stroop Effect".
Put words of the service onto a service sheet/booklet and most of us cannot avoid reading these words if the booklet is in our hands. Put words up on a projector screen and most of us cannot avoid but read them.
Sure, we normally need the words to a hymn/song. And many/most of us may need the words of longer prayers we pray together as a community (eg. a prayer of confession).
In many places they are so concerned to "welcome visitors" that they treat all, including everyone in their regular community, as visitors. Regular responses are preceded by the announcement of page numbers – or everything is up on projector screens or on the pew sheet. The Stroop Effect means that most cannot but read what is on the screen…
There are alternatives to this approach. Have all readings proclaimed by well-prepared, good readers. You don't need to print off the readings, or follow along with them. Similarly, prayers are led clearly, and in such a way that others are drawn into the prayer making it their own (like we might do when someone leads prayer before a meal or a meeting…). Greetings and responses are the same week by week, so well known to the regulars (yes, some might change for a season, eg. Easter). Most respond to these by heart.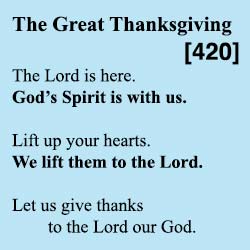 As people come in (or at their seat) there is a folded A4 (making 4 sides of A5). On this there is an outline of the service (headings), the responses that the regulars know by heart, and clear indication of the Prayer Book's page number should you want to follow the full text in the Prayer Book. The texts of the prayer(s) proclaimed by an individual are not on this sheet. Only the cues that lead into a response.
So, regulars can choose to respond by heart, from the sheet, or turn to the full text in the Prayer Book if that is what they want to do. A new person can participate easily from this clear, simple service sheet. The sheet can be coloured – different ones for different seasons.
Similar Posts: