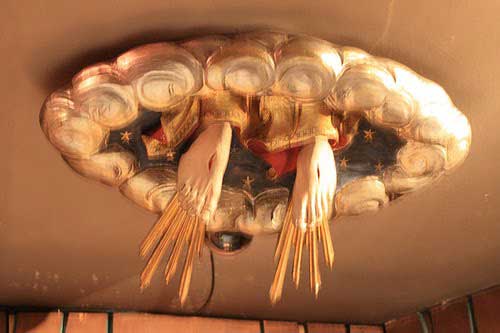 I walk around the chapels following the Rosary's mysteries at the Anglican Church in Walsingham and come into the Ascension Chapel. I cannot make out why it is called the Ascension Chapel. There is a painting of Mary…
… And then I look up….
Two feet are protruding out of the ceiling… (image above).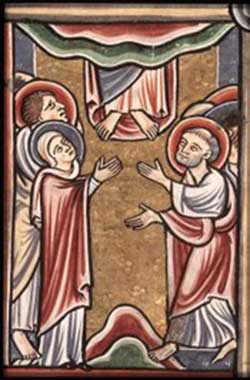 I love the images of Jesus' feet hanging out of the sky. And the questions about where does he go? Where is his body now? How does he cope without oxygen? If it is "up" from the Holy Land, where is it from here?…
Because it is so clearly metaphorical…
So much so that Luke doesn't even make any effort to get the chronology correct – is it on Easter Day… or 40 days later…?! Or, with John, as Jesus ascends the throne of his cross…?!
We are so used to the metaphor being expressed in one of the dimensions ("up"). But what say, instead of a spatial dimension being the metaphor – what would happen if we used time as the ascension metaphor?
Jesus went before us into the future…
Jesus went ahead of us into our future. Whatever happens now – Jesus, sovereign, is there ahead of us, our friend. All shall be well.
How might we now live knowing that Jesus is ahead of us in our future…? And that, whatever happens, our future is safe in the powerful hands of one who cares for us more than we care for ourselves…
Ascension Day reflection based on the collect/opening prayer.
Today is the Fortieth day of Easter.
In the Southern Hemisphere this is the start of the Week of Prayer for Christian Unity which concludes on the Day of Pentecost. Christians are not united on which week to pray for Christian Unity. Northern Hemisphere Christians pray for unity in a different week – in January.
Similar Posts: