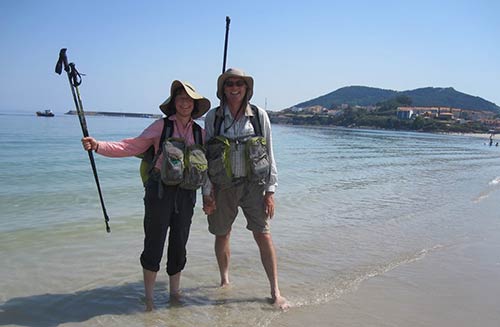 Updated 27 June: About 160 people turned up to this event. Thanks for your encouragement. You can read posts here on this site about this with tag "Camino".
If you are in Christchurch on Thursday, 23 June, do come and listen to Helen and me talk about the Camino and ask questions in the Chapman Room* at Christ's College (Rolleston Ave). The talk starts at 7:30pm followed by refreshments. You will be getting away about 9ish.
A year ago, having walked about 1,000km from France (over a period of 40 days), westwards to Finisterre (the "end of the world"), by the Atlantic, on the Camino Francés, we ran out of land and, like millions before us, said we'll "Finish There" 🙂
We will make connections between the concrete reality of walking this pilgrimage with (spiritual) lessons for our ordinary, every-day lives.
ANYONE and EVERYONE is welcome. We hope to see you there.
Do let others know – let your friends and church community know; advertise it in your church and pew sheet.
Ps. I also like the idea that there is a Kiwi Camino being developed:
In its first stage of development, it starts at Vaughan Park, Long Bay, Auckland and goes to Rangihoua, north of the Bay of Islands, where Christianity was first welcomed by the indigenous people of this land, Aoterora. It wishes to honour Maori and the history of Aoteroa by working closely with people.
If you appreciated this post, do remember to like the liturgy facebook page, use the RSS feed, and sign up for a not-very-often email, …
image: arriving in Finisterre.
Similar Posts: