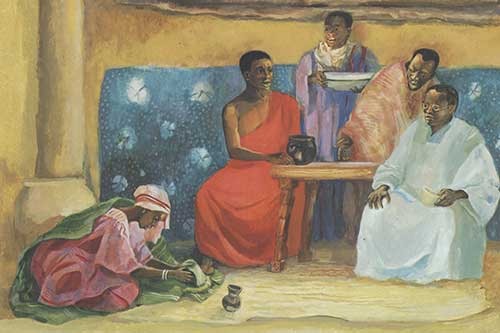 Let us pray (in silence) [that we grow in unity with God – the source of all good]
pause
O God,
the strength of all who hope in you,
mercifully accept our prayers,
and, because through the weakness of our mortal nature
we can do nothing without you,
grant us the help of your grace,
that in following your commands
we may please you in desire and in deed;
through Jesus Christ, our Saviour
who is alive with you,
in the unity of the Holy Spirit,
one God, now and for ever.
Amen.
I am once again delighted to have discovered another collect (opening prayer) held in common between Roman Catholics, Anglicans, and others. We have been praying this prayer, again, for at least thirteen centuries. Different Christian communities now use it on different days – the majority use it this coming Sunday.
Please add any comments and suggestions below – including improvements to my translation (above). This collect will be added to my Book of Prayers in Common.
Click on this link to find my history, commentary, and reflection on this collect: Ordinary 11.
[Under NZ Anglican counting of Sundays, this coming Sunday, June 12th is "the 5th Sunday in Ordinary Time"]
Some other celebrations this coming week:
Monday 13 June – Anthony of Pauda
Tuesday 14 June – Basil the Great
Wednesday 15 June – Evelyn Underhill
Saturday 18 June – Bernard Mizeki
Ramadan
Ramadan has started. At the start of Ramadan I tweeted
Thoughts and prayers for those beginning #Ramadan today. For the rest of us – here's some ways to show respect
I have never ever experienced such reaction to a tweet. Within a few hours I received so many reactions I was not even able to see them all – there seems to be a limit to the reactions twitter can show you. Yes, there were some "thank you" type responses but the majority were of the type: I should be crucified; I did not know Christ; I should put more energy into my own religion…
If you appreciated this post, do remember to like the liturgy facebook page, use the RSS feed, and sign up for a not-very-often email, …
image source: Jesus MAFA
Similar Posts: