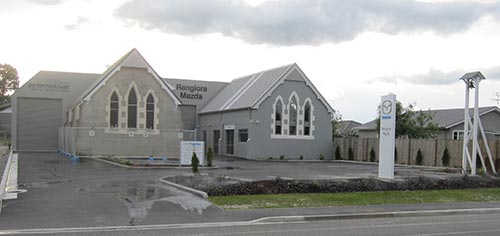 I have, for decades, gone past a cute little church building (the stone building on the left). It was sold. It is only a few blocks from a thriving parish church – so, makes sense.
I have seen church buildings turned into homes, cafes, and craft shops.
Week by week, I watched the new owners build a (concrete) "mirror" of the cute church building (on the right, in the picture above), and add the large building joining the two. I wondered what it would become. A funeral director's one-stop place (service in church, refreshments in its mirror), a wedding one-stop place (same configuration)…? Nope. It's for cars!
Why was I surprised? Is it me? Where are the edges of our spectrum for use of what was previously (obviously, in this case!) consecrated to worship? Cafe – fine. Home – fine. Lawyers offices? Massage parlour? Political party headquarters? Brothel? Pub? Video shop? Adult shop? Casino? Car sales yard? Shop selling party pills and legal highs?…
When we consecrate a building, in the case of our (now damaged) cathedral, the diocese held its ball in there; it was rented out (about $400) as a good space,… what do we mean by our words of consecrating a building? When the bishop deconsecrated it, and said it was now outside her jurisdiction, what was meant by that?
The bishop's act of deconsecration focuses on the words
I do remit this building, and all objects remaining in it, for any lawful and reputable use, according to the laws of this land.

This building, having now been deconsecrated and secularized, I declare to be no longer subject to my canonical jurisdiction.
"Lawful and reputable" (my stress)? Are there edges between sacred and secular? Is it a spectrum? What do you think?
Similar Posts: