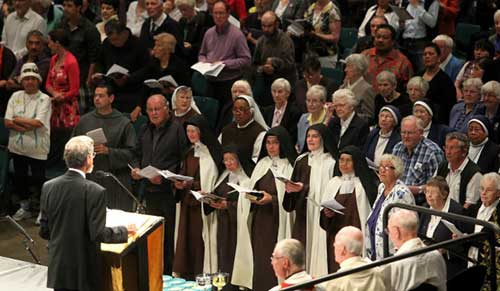 On Sunday (24 November), the Feast of Christ the King, over 8,000 Roman Catholics of the Christchurch Diocese gathered in one of the few large-gathering-places left in our quake-damaged city to celebrate the Eucharist together.
The day included an expo, cultural festival, and an ecumenical choral celebration. Bishop Barry Jones wrote, "Together we will thank God for his blessings, listen to his Word, profess our faith as one, join with Jesus in offering our lives to the Father, and be strengthened in love by receiving Jesus in Holy Communion."
Now I don't want to give into a common obsession (idolatry?) about numbers. Numbers are not everything, certainly. And small is often beautiful. But, on the other hand, numbers are not nothing. [And worse, IMO, is when we make significant decisions based on incorrect numbers, or exaggerated numbers creating a top-heavy administration machine that bears little relationship to the real needs "on the ground".]
What other denomination could have organised such a mass gathering? For worship primarily, but also a witness of hope to a community that although bearing the name, "Christchurch" and nationally regularly addressing the "God of nations at thy feet…" is generally touted as secular? Did Anglicans here have 5% of this turnout at the (post-quakes) last visit of the Archbishop of Canterbury?
What might be some of the healthy dynamics of Roman Catholicism that lead to being able to hold an event like this and that others can learn from?
A primary focus on worship and spirituality.
Schools. Roman Catholic schools are a primary instrument of education and formation, of mission and ministry.
Homogeneity in worship. The expectation is that you go to worship on Sunday, the focus is less on the individual community where you participate, and so when you travel (or when quakes destroy your building) you can move more easily from one worshipping community to another.
Well-trained and formed clergy.
Ps. Did you notice in the above photograph that the Carmelites left their enclosure to share in this diocesan event?
UPDATE: there are photos available on the diocesan site's page now. The Cultural Festival photos. The Choral Festival photos.
If you appreciated this post, don't forget to click "like" on the Facebook Liturgy Page, (there is also an RSS feed).
Similar Posts: