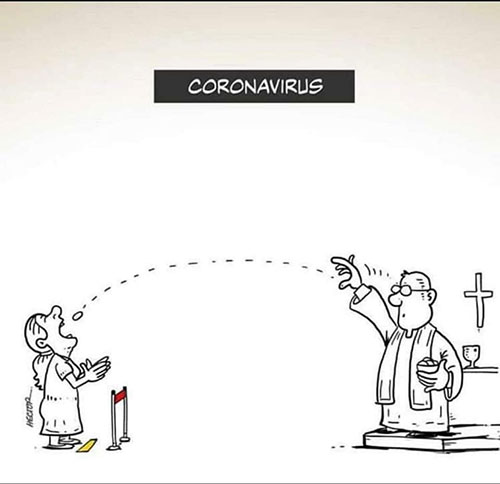 How does the Church lead as a non-anxious presence realistically in what is heading towards being a coronavirus pandemic? How do we help to not have people over-react, nor under-react? And how do we prevent the viral spread of misinformation?
In a changing situation, differing from country to country, and from church tradition to church tradition, this post cannot be held to be a source of advice. You need to do your own research into what is appropriate in your own context. This post is the result of online and IRL discussions, and the urging by many to see disparate discussions collected here.
For a month, all public Roman Catholic services will be cancelled in the Diocese of Rome – all Masses, weddings, funerals. Let me underscore for those who miss the significance of this: to miss Sunday Mass is a mortal sin in RC understanding. The pope's daily Mass and the Angelus will be live streamed.
Conflicting scientific information abounds, mainly focusing on communion practices. Certainly, peer-reviewed science agrees
No documented transmission of any infectious disease has ever been traced to the use of a common communion cup… the risk for infectious disease transmission by a common communion cup is very low, and appropriate safeguards – that is, wiping the interior and exterior rim between communicants, use of care to rotate the cloth during use, and use of a clean cloth for each service – would further diminish this risk.

American Journal of Infection Control (Vol. 26, No. 5, 1998).
From that point, the responses diverge. With much energy (in online discussions), often, it seems to me, in proportion to a liturgical distaste for intinction, people contend that intinction is not safe; and that the communicant intincting is least safe. In fact, the only peer-reviewed science that I have seen is the opposite: the shared cup is very, very safe, intinction is even safer, and the communicant intincting is safest.
Although intinction does not abolish all risk of infection to a parishioner, it does seem to reduce the risk over that of sipping from a common communion cup. …Intinction by the minister appears to be slightly more risky.

Journal of Environmental Health (Vol. 58, Issue 1; 1995)
You don't need a peer-reviewed paper to realise that administering communion on the tongue is the least safe option in the present situation.
Thankfully, I have only seen a few who have responded with a Jesus-in-communion will keep us safe. The loudest proclaimer of a non-scientific approach in NZ is, unsurprisingly, Brian Tamaki. According to him, "a blood-bought born-again, Jesus-loving, Bible-believing, Holy Ghost-filled, tithe-paying believer…has a, literally a protection — the Psalm 91 protection policy around you."
There are no generalisations about who has authority to make changes. Varying jurisdictions have different rules and sensitivities in this pastorally delicate context. Certainly, one must discourage the taking of church-style legal action against whatever decisions are being made with the best of intentions for the duration of this epidemic.
Those who follow the traditionalist Roman Catholic phenomenon will notice a 3-1 win for them in many places 🙂 No shaking hands at The Peace; no extraordinary ministers of communion distributing; no chalice; no communion on the tongue.
But, reflection needs to extend well beyond the administration of communion. The following are some of the considerations that different communities are taking into account [in no particular order]:
Only the presider drink the consecrated wine
All others receive only the consecrated bread
All those administering the consecrated bread use hand sanitiser in the vestry/sacristy prior to the Eucharist service. They then come forward into the sanctuary prior to the Eucharistic Prayer and join the presider in a fulsome lavabo, washing hands with soap in a bowl of warm water and drying with clean towels. After this, they remain in the sanctuary until after administering communion
there be no shaking of hands, hugs, etc for the Sign of Peace
the consecrated bread not be administered on the tongue
there be no water in holy water stoops, baptism fonts, or other shared water bowls (at or near entrances of our church buildings) used by people placing a hand in the water
prayer for all affected by coronavirus and for those working in relation to this epidemic be part of every Eucharist [eg. The Diocese of Rome has called on all Roman Catholics in Rome to observe a day of fasting and prayer for the victims of coronavirus on March 11]
the church be in the forefront of education about health in these times, what to do, and when to stay home (this could be in the form of a leaflet provided free for every person who enters a church building)
energetic effort be made to be assured that anything in the church building that is played with by babies and children is absolutely hygienic
if you have "altar rails" or other areas of the church that receive a lot of human contact, these need to be cleaned assiduously
the church community's responsibility for hygienic practice extends beyond the church building into the area for post-service refreshments
The above, then, can be a sort of check list for communities to consider. Is there anything that I have left out of this above list?
Concluding, I note the teaching of the Church in which I serve:
When people who desire to receive the Holy Communion are unable to do so for any other reason, their desire and such prayers as they are able to offer ensure that they do spiritually receive the body and blood of Christ.

A New Zealand Prayer Book He Karakia Mihinare o Aotearoa page 729
Some examples of responses to the epidemic:
The Episcopal Diocese of Long Island
The Scottish Episcopal Church
NZ's RC position
Anglican Diocese of Christchurch
I have been telling people, in response to other suggestions timing the length of washing hands, that it is the time it takes to pray the Lord's Prayer. Now, as I push publish on this post, my bishop and friend, Peter Carrell, has, at the same time, reminded me of this on twitter 🙂
image source: unknown, other than the signature "Hector"
Similar Posts: