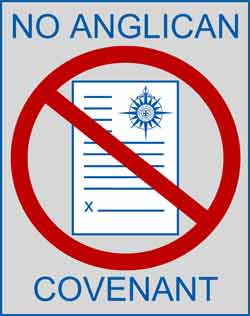 The tweets have just come in. The synod of the diocese of Lincoln has become the 22nd Church of England diocese to reject the "Anglican Covenant". Voting: Bishops For 0 Against 3 Abstain 0; clergy For 6 Against 28 Abstain 3; Laity For 2 Against 34 Abstain 2.
This follows the Diocese of Oxford voting against the "Covenant". Prior to this weekend 20 dioceses had voted against it.
22 of the 44 CofE dioceses being against the "Covenant" means the "Covenant" cannot be returned to General Synod.
My being quoted this week in the Global Mail has now become a reality:
As New Zealand clergyman and blogger Bosco Peters put it so succinctly this week, the Covenant's drafters "obviously never foresaw or even considered what would happen if the C of E did not sign up. What could it possibly mean to have a 'covenanted Anglican communion' of which the Archbishop of Canterbury is not a member?!!!"
Tomorrow we will hear in church the words of Jeremiah that God has put God's own covenant in our hearts; we will take bread and wine and celebrate the new and everlasting covenant God has made with us in Christ. God has given us enough.
(H/t to my friend who let me know about the Global Mail article).
Update: This weekend 3 Synods voted against (Guildford, Lincoln, and Oxford) and 3 in favour (Blackburn, Exeter and Peterborough). With these results the current figures are 23 diocesan synods against and 15 in favour, 6 left to vote.
Similar Posts: