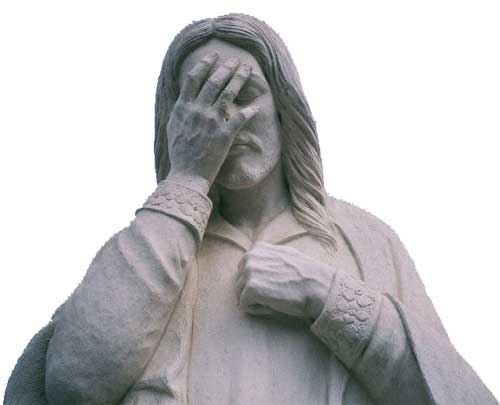 If you are not interested in NZ, or liturgical worship life here, go out and lie on a beach.1 Otherwise – do read on, if you like.
Oh – and before I get to today's post, click on this link for the reflection on Sunday's collect for The Baptism of the Lord.
Here's the conclusion of the post: Liturgy, rather than being seen as the joy of agreed common prayer, and the potential of shared human symbols to aid our relationship with the God who is beyond our tick-the-boxes mental categories, liturgy, instead, is often seen as an esoteric, gnat-straining, rule-obsessed, irrelevance. In our small and shrinking Church, rather than having simple, clear agreements, well presented, we are constantly presented with mind-numbing options (there must be more variants possible than number of people attending our Church!) and even when our own agreements are clear, we, who vow and sign up voluntarily to adhere to them, don't adhere to them.
In the Anglican Church of Or (formally known as "The Anglican Church in Aotearoa, New Zealand and Polynesia) I have long been calling for a simple document that makes clear
1) what is required liturgically in our church
2) what is allowed, and
3) what is forbidden
This call has even had unanimous support at diocesan level. But other issues (like who can love whom and how) are ahead of this in the queue.
Even when our agreements are crystal clear, people who vow and sign to adhere to them (and, remember, we voluntarily vow and sign up to these agreements!), at every 'level' of our Church life, break those agreements.
That is true of
This post builds on Beginning 2017 in The Anglican Church of Or and reinforces the point also underscored by the Ven. Dr Peter Carrell in his comment on that post, that, even when our agreements are clear and simple, we have a culture that does not adhere to these agreements – at every 'level' of our Church life, including, as I am further stressing in this post (applicable to this time of year) our Church's own Lectionary booklet.
The formulary (the technical term for what we have agreed together to be binding on us in doctrine and practice), Notes on the Calendar – Te Maramataka, and Precedence in Liturgical Observance is crystal clear:
The Baptism of Christ is only transferred when 6 January is a Sunday.
This year, 2017, 6 January is NOT a Sunday, so The Baptism of Christ cannot be transferred. And yet Pages 25 and 26 of our Church's Lectionary booklet for 2017 transfer The Baptism of Christ (from our agreed celebration on 8 January to 9 January), and those two pages are the consequences of that transference. The Church's Lectionary booklet is hence, once again, in breach of our own formularies, the teaching and practice that we have vowed and signed to adhere to.
The point of this post is that we are being subjected to liturgical chaosification. Liturgy is being made to be a foolish, incomprehensible, irrelevant interest of a tiny (and rapidly-decreasing) number of eccentrics. Often, our agreements for common prayer are unclear, and, even when they are crystal clear, they are ignored – all the way to the highest level. [And by "highest level", I mean beyond Lectionary booklets and bishops to being ignored by our General Synod itself – for further, see footnote 2 below].
A final point or postscript:
The agreed formulary of our Church is clear:
In any year when there is a Second Sunday of Christmas, the Epiphany (6 January) may, for pastoral reasons, be celebrated on that Sunday.
This year, there was a Second Sunday of Christmas on January 1. I have already demonstrated that our Lectionary booklet illegally provided options transferring the Principal Feast The Naming of Jesus to January 2 (contrary to our agreed formulary). What is beyond comprehension is, while providing every possible option which is not allowed, the Lectionary booklet does NOT provide the option of celebrating Epiphany on January 1 this year – an option clearly provided for in our Church's formularies "for pastoral reasons".
*****
Whether you regard the Christmas Season as concluding on Christmas Day, Epiphany, the Baptism of the Lord, Candlemas, the Sunday following Candlemas, or are Orthodox, or Armenian, and celebrate the Incarnation on another day and see the season differently… in the Southern Hemisphere, and certainly in Aotearoa-New Zealand, this is our go-slow time…
If you appreciated this post, do remember to like the liturgy facebook page, use the RSS feed, and sign up for a not-very-often email, …
(1) "lie on the beach" is my getting back at Northern-Hemisphere prejudice that January is winter. I recently met a USA family travelling around NZ. Having been here for a couple of weeks, in the conversation I had with them it became clear they hadn't realised it was summer here – they clearly thought we had extremely warm winters!
(Return to start of the post)
(2) and, to add to the confusion, there is the odd situation where we have a canon which explicitly defies our doctrine A canon, I remind you, is a simple majority decision by General Synod Te Hinota Whanui (GSTHW). Changing doctrine (formulary), on the other hand, is a highly complex process involving a majority of diocesan synods and hui amorangi, two meetings of GSTHW, a two-thirds majority in all Houses, and a year for any further disagreement.
(Return to marriage bullet point)
Similar Posts: