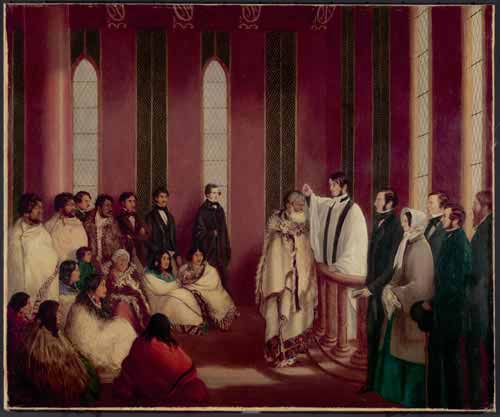 This is the third post in a series looking at the confusion around NZ Anglican liturgical practice. In the first I listed the surprisingly few requirements for celebrating the Eucharist, how they are not well known, and how even these few are regularly flouted. In the second I expressed surprise that a church which spends so much energy on debating marriage has clearly not addressed the mess of our regulations about weddings. In this post I want to examine NZ Anglican practice of Baptism.
I have been pressing the Anglican Church here to be upfront about the liturgical chaos in our province. I think there is huge confusion about what is required, allowed, and forbidden. And that alongside inadequate study, training, and formation in worship. General Synod Te Hinota Whanui (GSTHW) 2012 received a motion from our diocese seeking movement on this, but it did not discuss that motion, passing it on to Standing Committee to address. As we near the next meeting of GSTHW, we have heard no more about it – hence this series.
From nearly-impossible-to-find tiny rural churches, to our great cathedrals, from those recently-ordained to some of our most senior clergy, people regularly use Baptism rites that are not the one we have agreed to. I often have people send me their community's baptism rite, or ideas for revising their community's rite. There is not the slightest embarrassment or thought that perhaps they should be using the church's agreed rite.
Clergy to the highest rank, or with the most experience, are unaware of what exactly is authorised in our church. Those who attempt to follow the liturgical-snakes-and-ladders rite in the NZ Prayer Book can get confused and omit parts. Others who object to the theology it embodies of pouring water over someone's head and then seeing if after that they believe anything often don't realise that the church has authorised an orthodox alternative. That alternative is not mentioned on the church's own online version, even though it was confirmed at GSTHW a dozen years ago. Schedules to Title G Canon VII listed as authorised Christian Initiation 1976 and Holy Baptism & Confirmation 1984, services which some communities prefer to use rather than the Prayer Book's rite. But it is now unclear whether GSTHW was able to authorise by placing services on such a schedule, and it may have been doing so illegally.
Now, GSTHW, can we please (pretty please, with a cherry on top!) have the honest, proper review of our liturgical mess in our province.
image: The 1853 painting shows the baptism of the leading Te Āti Awa chief Te Puni by the Reverend Octavius Hadfield, an Anglican missionary. The old chief lived by Wellington Harbour at the site of present-day Petone, and was baptised there in 1852. However, the ceremony is shown here in the more impressive surroundings of Rangiātea, Hadfield's church at Ōtaki.
Similar Posts: