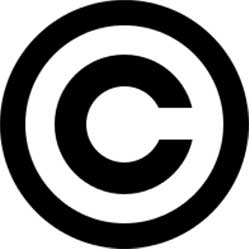 Can you change things that are copyright?
There has been a lot of discussion here and here recently about whether a line in a hymn is understood to express Christian teaching well, or whether it is preferably altered to better express orthodox Christian teaching, and help those singing it and hearing it, to get the right understanding that is intended.
In parallel to that has been the issue of altering copyright words. If you want to discuss the theology – go to those posts. Here we are talking about copyright.
Copyright is both a legal and a moral (and liturgical) issue.
Fairly obviously: you cannot use a text, tune, image, etc. that is copyright, without acknowledgement and following the conditions of use of the copyright holder. This is obviously a legal and a moral requirement.
1) Can you change a word or words in a copyrighted text? Legally? Morally?
1a) Can you change a word or words in a copyrighted text if you acknowledge that the particular word or words are changed? Legally? Morally?
eg. "He/his" to "God/God's"; "brethren" to "siblings"; can you change the words to become "The love (rather than the original wrath) of God was satisfied"? If you put * and at the bottom of the page/screen *originally "wrath"?
2) Can you print the original, and instruct people to change the words as they sing?
eg. "When we get to 'wrath' we will sing 'love'"; "'He' we will sing 'God'"…
Legally? Morally? [Please remember – don't make this a theological discussion – that goes here]
3) Can individuals alter what they are singing as they sing? "He" to "God"; "wrath" to "love". Legally? Morally?
3a) There's a liturgical issue here also. There is a loss of common prayer when some sing one thing, and others sing something else in audible protest.
Furthermore, the focus can shift to an individual's pet peeve. Just as it can in the leader making the changes on the printed/projected/instructed version.
4) Can you remove verses of a copyrighted text in printing it? Legally? Morally?
5) Can you print all verses, and instruct people to omit verses when singing, eg. "we will sing verses 1,3,and 5"? Legally? Morally?
5a) Is there a different issue with projecting? If all verses are required by copyright to be present on the projector screen, but we are allowed to choose verses to sing when all verses are present?
6) If an author has put lyrics with one particular tune, can you sing those lyrics to another tune? Legally? Morally?
7) If you are following all copyright requirements in terms of, for example, acknowledging sources on printed service booklets for a service – can you podcast, live-stream, or video-and-place-on-YouTube this same material?
Another discussion is the copyrighting of Christian texts. I have an issue with copyrighting certain texts which need to be purchased, and then requiring (not-well-off) communities to purchase those texts.
Copyright has been an issue for the Anglican Church in Aotearoa, New Zealand and Polynesia which lost full control of our own copyright over our own rites in A New Zealand Prayer Book He Karakia Mihinare o Aotearoa. I think issues with that continue to this day.
image: This image is ineligible for copyright and therefore in the public domain, because it consists entirely of information that is common property and contains no original authorship.
If you appreciated this post, there are different ways to keep in touch with the community around this website: like the facebook page, follow twitter, use the RSS feed,…
Similar Posts: