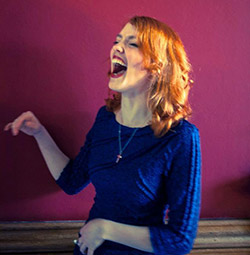 Katharine Welby has just blogged about her depression. It received media coverage and online comment.
I appreciate it so much that she speaks of "hopeful depression". That she has humour with depression…
I've been following her on twitter for some time now. Her profile has increased since her dad became the Archbishop of Canterbury recently. [Now she is "aka ABCD"!] She is a Christian; "Passionate for community, peace, accepted difference, unity. Lover of God, lover of life".
She writes:
…I have depression. I get it quite badly on a regular basis and kind of cry and get tired and just generally see no hope in the world. Problem is, recently I have had hope. I am very low, very sad and yet at the same time very happy. It seems like the chemicals in my brain are at war with my circumstances 'I am happy' 'No you are not' 'no really I am' 'no really you are not'. This is the current sound track to my life.

Amongst all the dull thoughts I have been thinking, I have been pondering the happy/depressed state of my mind and wondering at it. What does it mean to find hope within an illness that is doing everything possible to rob you of it?
…
I have a hopeful depression. I am unafraid of my illness, I know that at times it will be unbearable, but I know in it all I am not alone. I look forward to the time when this hope is shared by the church and all those in it suffering quietly and in fear of what their friends would say.
The false teaching of "become a Christian and you will be healthy, wealthy, and happy" is highly prevalent, sometimes subtle and insidious. In that teaching, health, wealth, and/or happiness is/are the goal(s). God becomes merely the means.
In fact (IMO) God is the goal. And union with God can be achieved by happy people and sad people; by rich people and poor people. [Well it may actually be more difficult for happy and rich people… but let that be another story…] And by sick people as well as by healthy people. And that includes the mentally ill. And that includes depressed people.
In October 2011 there was a joint initiative between the Church of England and the mental health charity Time to Change to combat mental illness stigma. A resource pack was created for World Mental Health Day 2011. It provides ideas and resources for churches to plan worship on the theme of mental health.
The media (surprise!!!) misquoted a sermon resource in the pack to suggest the church insinuated that Jesus suffered from mental health problems. Heresy! And Apostasy! Were the rallying cries in many corners. Well before we too rapidly point out the resource said nothing of the sort (but that Jesus was not immune to such accusations) let's realise that the rapid defence may be the bigger heresy?!!! Did Jesus never suffer from a cold, an illness? Did he not bleed when he missed the nail and hit his thumb? Did he never feel annoyed? Angry? Depressed…?!!! Was Jesus not fully human…
*****
New Zealand, with its unacceptably high suicide rate, is growing more proactive about depression; including through websites here and here. With more than two years since the start of the Canterbury earthquakes, this site, responding to the variety of feelings around, is also of interest.
If you appreciated this post, there are different ways to keep in touch with the community around this website: like the facebook page, follow twitter, use the RSS feed,…
Similar Posts: