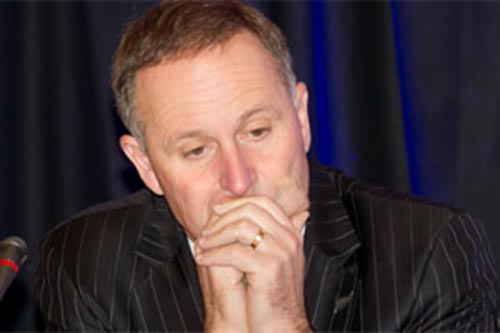 Be it the death of a well-known cricketer, or a hostage siege, or the massacre of innocent children… world leaders send messages of support to the affected peoples and countries. And they do so not primarily on their own behalf, but on behalf of the nation they lead.
They say words like, "our thoughts and prayers are with you." Except John Key, Prime Minister of New Zealand. For him (correct me please!) it is "hearts and thoughts" or similar words. But never "prayers". [Update: Thanks, Peter Carrell, for pointing out the PM mentions Kiwis praying in response to our NZ Pike River Mine tragedy]
People of faith, people of prayer are made invisible in our country. The significance of missionaries was written out of our history books. State-educated Kiwis are given little appreciation of religion, and little understanding of how it shaped and continues to shape our world, let alone our nation.
I absolutely respect that John Key does not pray. I totally accept if he thinks it is a silly practice, a waste of time. But if, on the occasions when he speaks for us as a nation, not as a particular-party-political leader, and certainly not as an individual, then, on occasions where many people are praying for the situation he is commenting about on our behalf, I respectfully submit that he should not conceal our praying.
Here are some phrases he can use with integrity (speech writers take note): "many people in New Zealand are thinking of you and praying for you…"; "You are in the thoughts and in the prayers of many Kiwis…";…
Our latest census has about half of the population identifying as Christian, with another 10% identifying with religions that pray. A New Zealand values survey recently indicated 60 percent believed in God and a further 20 percent in some Higher Power. 60 percent indicated they prayed, 30 percent several times a week. All these figures had increased over the previous decade.
Both our NZ national anthems are prayers addressed to God, and our national flag has four Christian crosses on it.
Each day in our parliament begins with the prayer:
Almighty God,
Humbly acknowledging our need for Thy guidance in all things, and laying aside all private and personal interests, we beseech Thee to grant that we may conduct the affairs of this House and of our country to the glory of Thy holy name, the maintenance of true religion and justice, the honour of the Queen, and the public welfare, peace, and tranquillity of New Zealand, through Jesus Christ our Lord. Amen.
Recently the Speaker sounded out the possibility of changing this prayer to:
E te Atua Kaha Rawa (Almighty God)

Ka whakamanawa taua hunga katoa kua riro atu i mua i a tatau – moe mai okioki (We honour those who have gone before us – rest, slumber on.) We recognise the mana whenua, Te Ati Aawa, the kaitiaki of this region, Te Upoko-o-Te-Ika-a-Maui.

We acknowledge the need for guidance and lay aside all private and personal interests so that we may conduct the affairs of this House for the maintenance of justice, the honour of the Queen and the public welfare, peace, and tranquillity of New Zealand.
The Speaker has decided that the current prayer remain after a 'substantial majority' asked that it not change.
I live in Christchurch (note the name), the main city in the Anglican settlement of Canterbury, where streets are named after Anglican dioceses around the world.
Religion, spirituality, and prayer are more a part of NZ lives than we are often given the impression.
When tragedy happens around the world, and possibly a majority (or certainly a very significant minority) of Kiwis pray for those affected by that tragedy, I don't want our prayers edited out of our leader's message to them.
Similar Posts: