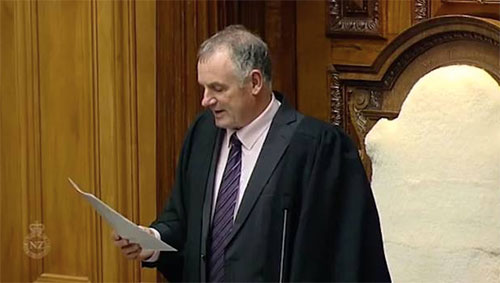 Standing Order 62 of New Zealand's House of Representatives reads:
On taking the Chair at the commencement of each sitting the Speaker reads a prayer to the House and the Mace is placed upon the Table.
Prayer has begun each day in parliament since 1854. Concern was expressed, even in those days, that no religious persuasion be seen to be given preference. There is nothing in the Standing Order indicating what the prayer should be – so it is the Speaker's prerogative.
Since 1962, the prayer used was:
Almighty God,
Humbly acknowledging our need for Thy guidance in all things, and laying aside all private and personal interests, we beseech Thee to grant that we may conduct the affairs of this House and of our country to the glory of Thy holy name, the maintenance of true religion and justice, the honour of the Queen, and the public welfare, peace, and tranquillity of New Zealand, through Jesus Christ our Lord. Amen.
The previous Speaker, David Carter, consulted about altering the prayer, but in the end retained the 1962 one.
Last Thursday, the new Speaker, Trevor Mallard, read a new prayer in Te Reo (video at this link):
E Te Atua Kaha Rawa, Ka tuku
whakamoemiti atu mātou, mō ngā karakia
kua waihotia mai ki runga o Aotearoa.
Ka waiho nei I ō mātou pānga whaiaro
katoa ki te taha, nei rā ēnei e īnoi atu ana
mō Tō ārahitanga, I roto i ō mātou
whakaaroarohanga, ā, kia whakahaere ai
e mātou ngā take o Te Whare nei, I runga
i te mōhio, me te whakaiti mō te oranga,
te maungārongo, o te tūmatanui o Aotearoa.
Amene.
The English version is:
Almighty God, we give thanks for the blessings which have been bestowed on New Zealand.

Laying aside all personal interests, we pray for guidance in our deliberations, that we may conduct the affairs of this House with wisdom and humility, for the public welfare and peace of New Zealand. Amen.
Mr Mallard said he would take feedback into account.
This recently used prayer does not pray through Jesus Christ, does not have the NZ parliament recognise Jesus as Lord, and does not have parliament seeking to maintain true religion.
Starting with the last point – what did people understand they were to maintain as the true religion: Roman Catholicism (the previous Speaker who led the prayer was a Roman Catholic)? Anglicanism? Christianity?
I would have thought that parliament, at least in this country, had to make no distinctions between religions, true or less true, shouldn't be praying for one over the other, and certainly had no right to be maintaining some and not others.
And then there are those Kiwis who would think that putting together "true" and "religion" creates an oxymoron!
The newer prayer can, at least, be said "Amen" to by Christians, Muslims, Jews, Sikhs, Hindus, Bahais, and others. But what about atheists and agnostics?
The NZ Anglican Prayer Book has examples of prayers that Christians say "Amen" to (in fact Anglican Church licence holders, like me, vow and sign up to the prayers in that book). And others (from other faith positions, and including atheists and agnostics) can use them with integrity as well. They might form a model for a way forward, Mr Mallard. And remember: there's nothing to prevent using a different prayer on different days.
The first example I present is by an Anglican priest, Jim Cotter (page 162):
For the hungry and the overfed
May we have enough.

For the mourners and the mockers
May we laugh together.

For the victims and the oppressors
May we share power wisely.

For the peacemakers and the warmongers
May clear truth and stern love lead us to harmony.

For the silenced and the propagandists
May we speak our own words in truth.

For the unemployed and the overworked
May our impress on the earth be kindly and creative.

For the troubled and the sleek
May we live together as wounded healers.

For the homeless and the cosseted
May our homes be simple, warm and welcoming.

For the vibrant and the dying
May we all die to live.
My second example is from the Buddhist Thick Nhat Hahn (page 164):
Let us be at peace within ourselves.

Silence

Let us accept that we are profoundly loved
and need never be afraid.

Silence

Let us be aware of the source of being
that is common to us all
and to all living creatures.

Silence

Let us be filled with the presence of the great compassion
towards ourselves and towards all living beings.

Silence

Realising that we are all nourished
from the same source of life,
may we so live that others be not deprived
of air, food, water, shelter, or the chance to live.

Silence

Let us pray that we ourselves cease to be
a cause of suffering to one another.

Silence

With humility let us pray for the establishment
of peace in our hearts and on earth.
If you appreciated this post, do remember to like the liturgy facebook page, use the RSS feed, and sign up for a not-very-often email, …
Similar Posts: