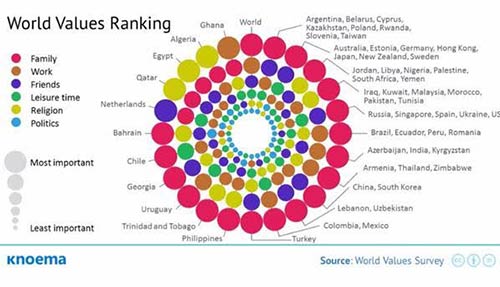 Someone sent me the above image – a clever graphic representation of values by country sourced in the World Values Survey.
In New Zealand, we, on average, value religion last in the six categories provided. Our order of values is: family, friends, leisure, work, politics, religion. We share this ranking with Australia, Estonia, Germany, Hong Kong, Japan, and Sweden.
Other countries that rank religion last are China, South Korea, and the Netherlands.
Algeria, Egypt, and Qatar rank religion first.
Bahrain, Trinidad and Tobago, the Philippines, Iraq, Kuwait, Malaysia, Morocco, Pakistan, Tunisia, Jordan, Libya, Nigeria, Palestine, South Africa, and Yemen all rank religion second – and these countries all rank it after family.
If you appreciated this post, do remember to like the liturgy facebook page, use the RSS feed, and sign up for a not-very-often email, …
Similar Posts: