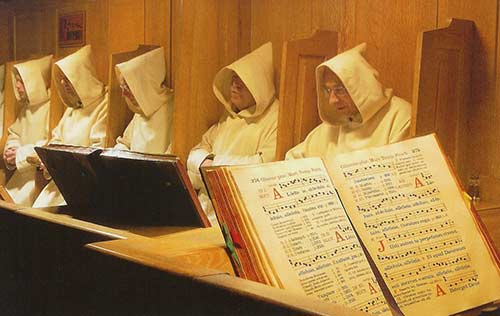 Bruno of Cologne (Cologne c. 1030 – Serra San Bruno 6 October 1101) was the founder of the Carthusian Order, personally founded the order's first two communities. He was a celebrated teacher at Reims, and a close advisor of his former pupil, Pope Urban II.
God,
you called Bruno to serve you
in a life of solitude,
inspired by his example,
may our hearts be fixed on you
amidst the swift and varied changes of the world,
through Jesus, the Christ,
who is alive with you
in the unity of the Holy Spirit,
one God, now and for ever. Amen.
Some of my reflections on Carthusian life
Some of my photos of Carthusian life
You can also use the search box (top right of this site) for "Bruno" and "Carthusians".
If you appreciated this post, do remember to like the liturgy facebook page, use the RSS feed, and sign up for a not-very-often email, …
image of Carthusians in choir – source
Similar Posts: