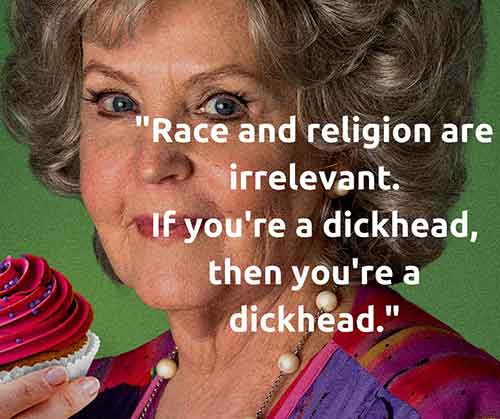 I enjoyed the dramedy movie, Dough, the story of "an old Jewish baker struggles to keep his business afloat until his young Muslim apprentice drops cannabis in the dough and sends sales sky high."
Yes, it's a bit "paint by numbers", but, with Jonathan Pryce (or was that Pope Francis), Pauline Collins, and other excellent actors, suspension of disbelief for this movie-parable is easy.
There are some lovely images of Jewish prayer, and Muslim prayer.
The parable (living with difference) seems even more pertinent now than when it must have been in the writing stage. It is difficult to believe that the allusions to Donald Trump (The Apprentice: You're Fired! – note the words of the granddaughter) were probably not in the mind of the writers when the film was being produced. The film deals with prejudice and tolerance.
My favourite line in the film is from Joanna Silverman (Pauline Collins): "Race and religion are irrelevant. If you're a dickhead, then you're a dickhead."
If you appreciated this post, do remember to like the liturgy facebook page, use the RSS feed, and sign up for a not-very-often email, …
Similar Posts: