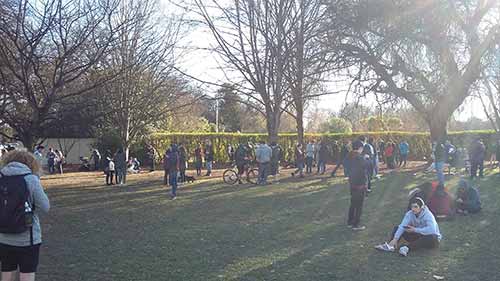 Almighty God,
who has gotta 'catch us all',
within the great Pokeball of your love.
Give us the power that's inside,
so that we might not divert our eyes from the game map that you have set,
but instead, with Clefairy, Charmander and that electrocuted yellow rat thing,
come to the great PokeGym in the sky, where prestige points are infinite.

Amen
A friend, knowing my obsession with collects, sent me the above one. Thanks! It comes from the wonderful site Exciting Weariness, where The Visitation of a Pokemon Go Player is an Even Lesser Festival. Read more there.
Pokémon Go is certainly a huge phenomenon. If you invested heavily in Nintendo shares, you will know this. Or if you sell external batteries for phones. Or even newer phones. Or if you go for a walk anywhere.
How are churches responding? How is your church responding?
Some businesses are paying to lure Pokemon to their place.
Some churches have been surprised to find their Pokémon Go players turning up at their building because it is a gym in the game. Some churches are using their facilities as a Pokestop. There are church signs – I'm underwhelmed by the twee ones I've seen – around looking for Pokemon and Jesus, or Jesus loving players. Can you think of anything less inane? ("Jesus died to catch 'em all").
How can churches be of service? Can you provide ways to recharge phone batteries free? In the Northern Hemisphere it is summer – there's a lot of walking involved in the game – can you provide water to drink? Can we be aware of concerns with children and young people gathering in areas? What do we learn from those playing the game – race, culture, beliefs don't seem to cause divisions between them? Are there sermon illustrations here (including about augmented reality)? Does your church building look welcoming to players? Is there attractive information about your church readily understandable to non-churchgoers? What else can you think of?
If you appreciated this post, do remember to like the liturgy facebook page, use the RSS feed, and sign up for a not-very-often email, …
image: this area in the park would normally be empty on a winter morning such as this.
Similar Posts: